I saw this on comedian @pattonoswalt's Twitter feed. Something jumped out as being horribly, horribly wrong with this photo. It's not the content. It's not...
Out of all owners of NFL teams (including the beloved Green Bay Packers which are owned by NO man, but by a city), only...
Rampant Wingnut Stupidity
Apparently off his meds and in dire need of a nap, cranky old Donald Trump took the stage at a Huntsville, Alabama, auditorium Friday...
OTHER STUFF YOU SHOULD KNOW
Several end-times scenarios are discussed on this worrisome edition of the "TrumpThumpers" podcast.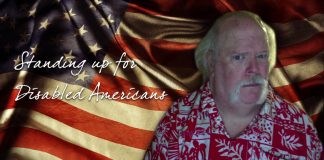 REPRINTED FROM BREITBITNEWS.COM I am too disabled to stand for a very long time. But I will stand for my rights and for those of...
Governor Chris Christie of New Jersey put out a new video, "Tellling It Like It Is," in advance of the governor's formal 2016 presidential...