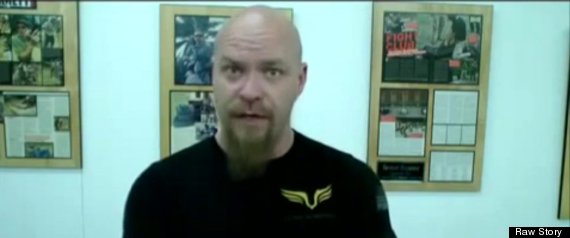 Looks like WJJ Hoge and Aaron Justin Walker have some company in their quest to get armed or stay armed and get ready for civil war. You see they believe like James Yeager above believes, that civil war is coming, and if you don't have your guns ready, well, you will certainly be sorry. This is the problem with the gun debate. These are the guys that the NRA, along with nutcase Sheriff Joe Arpio, want to send into the schools, to, ya know, protect the children. Imagine if you will a guy like James Yeager in your child's school armed to the teeth and standing by for WAR.
Or imagine he is a co-worker who is talking like this at work, much like Aaron Walker did when it came to getting rid of Muslims by way of telling Muslims to come and get me bitches? Now would you want to work around guys like this? Would you want them protecting the school children? I think what most of these gun lobby nuts think is that guys like Yeager are stable and wouldn't go ballistic one day if their wives left them, or they didn't eat their Cheerios that morning because the milk was bad, or if Obama got a third term in office, or if maybe some dude just flipped them the bird one day and they decided to just go all out and get some. And what better place for them to unload their anger where they would potentially be allowed to patrol armed to the teeth than a school yard? See, their version says as long as they are employees they couldn't possibly go out and commit mass murder. You see, mass murders in the work place just don't happen. So let's have a call for more armed to the teeth people like Aaron Walker, WJJ Hoge and good old boy James Yeager. Let's suit em up and get em a bus ride to the school yard and let em lock and load…
Side note, look how Andrew Breitbart thought about getting the guns and starting to eliminate liberals. I am sure he had guys like James Yeager covering his back.
[youtube]http://www.youtube.com/watch?v=41jcsTh60MM[/youtube]