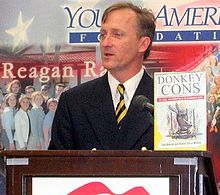 Robert Stacy McCain demands that Twitter, a free service that he uses to make money by pushing his blog and rattling his tin cup, prosecute someone, anyone, over something that is not even defined as criminal anywhere in the world: buying him Twitter follows.
War on @twitter Spam Accounts: TURNING IT UP TO 11! http://t.co/sDXGSUxx32 | | @instapundit @ali @marklangford @delbius @support

— Robert Stacy McCain (@rsmccain) September 13, 2013
McCain has been sounding the alarm since last week, when he unexpectedly found himself followed by thousands of spammy, fake accounts that exist for the sole purpose of a paid follow industry. Paid Twitter follows are not some new form of Kimberlin-harassment, they are a multimillion-dollar business.
Andrea Stroppa and Carlo De Micheli, two Italian security researchers, spent the last several months investigating the underground economy for Twitter followers and said they had found a thriving market.

There are now more than two dozen services that sell fake Twitter accounts, but Mr. Stroppa and Mr. De Micheli said they limited themselves to the most popular networks, forums and Web sites, which include Fiverr, SeoClerks, InterTwitter, FanMeNow, LikedSocial, SocialPresence and Viral Media Boost. Based on the number of accounts for sale through those services — and eliminating overlapping accounts — they estimate that there are now as many as 20 million fake follower accounts.

Fake followers are typically sold in batches of one thousand to one million accounts. The average price for 1,000 fake followers is $18, according to one study by Barracuda Labs. Mr. Stroppa and Mr. De Micheli said some sellers bragged that they made $2 and $30 per fake account. A conservative estimate, they said, was that fake Twitter followers offered potential for a $40 million to $360 million business.

Mr. Stroppa and Mr. De Micheli explored the underground economy for fake followers. The market functions somewhat like eBay in that sellers receive customer feedback. The researchers said they approached sellers with positive feedback and found that fake followers were typically sold in packages ranging from $1 to $1,000 for 1,000 to one million accounts. For instance, Fiverr sells 1,000 Twitter followers for $5.
Basically, for the cost of about $25 someone has managed to make McCain screech at the injustice and danger of being followed by too many spam accounts. We find that hilarious. This is the same McCain who, in his famous post about how to get one million blog hits in a year, says
We'll have none of your "bipartian civility" around here, you sissy weaklings. This here is the Intertoobs, and we're As Nasty As We Wanna Be.
Under that bullet point, McCain gloats at how nasty and venomous he has been towards other writers.
Some readers might remember when I first kicked Conor Friedersdorf in the knee for "insufficient cynicism." Conor is, in real life, a nice guy. But he's also (a) young, and (b) as earnest as John Boy Walton. So I got into a habit, when he was at Culture11, of kicking him in the knee with some regularity. It's the Fraternity Initiation Principle: Pledges must be abused by their elders, and learn to be properly respectful, or else one day the ambitious little monsters will strangle us in our sleep. (Cf., my suggestion thatGeorge Freaking Will should be air-dropped on Jalalabad from a C-130.)
Never one to avoid hyperbole, McCain uses a violent metaphor and proudly admits to trolling.
Easy as it would have been to ignore Klein, I hit upon the delightfully fun idea of laying into him in Arkansas knife-fight mode: If you're going to cut a man, eviscerate him. So I quickly composed a hyperbolic ad hominem rant, with the thoughtfully civil title, "Andrew Sargus Klein is an arrogant elitist douchebag."I forward-dated the post for Friday morning, and sent Russ an e-mail to the effect of, "Hey, hope you don't mind me abusing your office help a little bit. Nothing like a flame-war to build traffic. Don't let on to Klein that I'm just funnin' around with him."

I'd hoped to bait Klein himself into a response.
Yes, Robert Stacy McCain can be as nasty as he wants to be, but how dare anyone buy him Twitter followers. Do that, and he will lay into the CEO of Twitter to call foul on…well, on whoever did it, because he is sure there is a crime being committed here somehow:
.@Support @delbius If a non-tech layman can discern fake-account pattern > https://t.co/2rjemjYVEd < why can't @twitter stop these frauds?

— Robert Stacy McCain (@rsmccain) September 13, 2013
@Jedi_Robin So don't give me advice on what *I* need to do. This is about what @twitter @Support @safety needs to do: STOP THE FAKES!

— Robert Stacy McCain (@rsmccain) September 13, 2013
An apparent Twitter noob, McCain has just noticed that fake spambot accounts not only exist, but that they often come with cleavage. So while he screams about persecution, he also makes sure to post all the large-breasted Twitter avatars that follow him. Because bullet point five on his list of ways to get a million blog hits is
Or Anne Hathaway or Natalie Portman or Sarah Palin bikini pics. Rule 5 actually combines four separate principles of blogospheric success:
McCain gets blog traffic from the Twitter cleavage. He rattles his tin cup with the persecution narrative of being "assaulted" by criminal, unwanted Twitter follows. McCain is supposed to be a badass who gets all up in our faces offending us, and there is nothing we can do about it because nah-nanny-boo-boo, until you follow him on Twitter with too many accounts. Then boy howdy, he will give you such a pinch!
http://t.co/jmZZb0mADW Can this possibly be true? @delbius enabling serial harasser @NealRauhauser? @lolvincitomnia3 @OwainPenllyn #tgdn

— Robert Stacy McCain (@rsmccain) September 13, 2013
Is that R.S. McCain taking "information" from the inimitable cyberstalking nutcase and troll Mike Stack? Why, yes, it is! As we have told you before, McCain's regular sources include some of the weirdest failtrolls on the internet. He repeats their conspiracy theories as fact and then wonders why he gets sued for defamation. And now he's demanding that his enemies go to jail for something that is not even a crime.