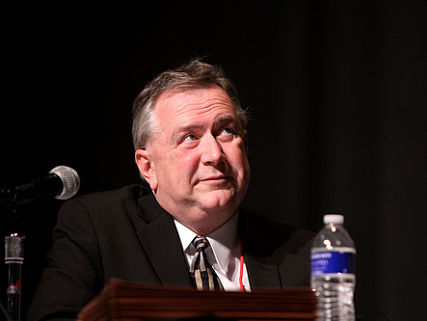 We have written about Steve Stockman's Twitter trolling and moronic behavior a couple of times here, so we have paid attention to a gathering scandal surrounding the Tea Party congressman's personal financial disclosures, or rather lack thereof, as he gets ready to primary Senator John Cornyn of Texas.
Brett Kappel, another Washington, D.C.-based attorney who specializes in campaign finance law and disclosure rules, said Stockman should have been fined for failing to file a disclosure as a congressional candidate in 2012. Kappel said Stockman's 2013 disclosures left out information about his active business affiliations.

"It sounds like he has no clearly identified source of income," Kappel said. "If you're an accountant, you should be aware of state and federal filing requirements (for nonprofits and for-profits) and if you are a former member of Congress you should be aware of disclosure requirements."
Although we do not know of any link between Stockman and the familiar cast of characters we discuss at this website, his sketchy business and incomplete disclosures remind us very much of Ali Akbar, especially when the Houston Chronicle could not find Stockman's "Presidential Trust" in any public nonprofit databases and the IRS could not confirm the organization's nonprofit status.
The Chronicle could not find any public records that document the existence of a company called "Presidential Trust Marketing." But Stockman did register the "Presidential Statutory Trust Foundation" in Wyoming. It existed from 2007 to 2009, according to state records. And in 2004, he registered a sole proprietorship in Harris County called "Presidential Trust" with a post office box in Webster, Texas, as the listed address.

Harris County records list Presidential Trust as a for-profit business. On Stockman's LinkedIn page, he describes himself as "chair at Presidential Trust" and identifies himself as working in "nonprofit organization management."
As you might expect, Stockman has been one of the most vocal proponents of the so-called "IRS scandal" in which Tea Party groups complained of imaginary harassment by the Obama administration. Back in June, he even went so far as to attempt to subpoena nonexistent NSA records of phone calls between the White House and the IRS, a publicity stunt which earned the glowing approval of Breitbart.com's Debra Heine. But the most eerie parallel we found in the Chronicle's story is this one:
An archived version of one of the fundraising Web pages from 2005 quoted "Congressman Steve Stockman" (which he was not at the time) as saying: "Like our Founding Father's (sic) vision and moral clarity join us in promoting freedom and love for our great nation. Your support will help preserve America's great culture – it is a shared duty and honor to give sacrificially to defend our great nation."

Potential donors were supplied with Presidential Trust's Webster post office box number, the same one Stockman has used for various purposes over the years.

The same Web pages sought donations via the same post office box to help produce or pre-order copies of a video called "Twisted-Michael Moore Exposed," promising it would reveal the "tragic propaganda" of filmmaker Michael Moore. There is no indication that such a video was ever produced.
How many film projects has our old friend Lee Stranahan raised funds to start, but never finished? We have lost count.
While the origins of Tea Party activism lie in well-funded right wing organizing, the movement itself was built on genuine grassroots activism. This has created an environment rich with possibilities for potential scammers like Stockman, who has not only been elected to Congress but now wants to run a Senate primary against an establishment Republican. But he will have to find a new campaign headquarters because the old one was shut down by the Fire Marshall.
Officials found 14 fire code violations and ordered the office closed and its electricity shut off on Nov. 7, fire department records show. No one had obtained the necessary permit for the campaign to legally occupy the pale yellow two-story metal building along a feeder road on the freeway, wedged between a spa dealership and a strip mall, building department records show.
As the Tea Party movement becomes ever-more extreme, demanding more-rigorous ideological purity of its candidates instead of actual qualifications, opportunists like Stockman have been able to whip up enthusiasm among people who look right past their glaring deficiencies to vote for the person who says what they want to hear. This is also why scammers like Akbar and Stranahan can mooch off of those same grassroots activists without ever paying a price: they only need to make the right noises, and then everyone will simply ignore their rich criminal histories.
Steve Stockman reminds us of old friends because like them, he is a feature of modern "conservative" politics, not a bug.
[youtube]http://youtu.be/5qpBFg-eakk[/youtube]