As we told you recently, attorney James Skyles will represent the Franklin Center against Brett Kimberlin. Judging by his blog, one might expect Mr. Skyles to defend Mr. Kimberlin from defamation, but his past leadership of the Franklin Center suggests he is actually quite familiar with hatchet journalism. Skyles will argue the case Pro Hac Vice, which means a local attorney named Linda Mericle represents the Franklin Center until it is time to actually argue in court. But after reading the responses to Kimberlin's federal R.I.C.O. lawsuit, we are pretty sure that Dan Backer is the attorney who is really in charge of this defense strategy.
Backer used another Maryland lawyer named Bruce Godfrey to handle his failed lawsuit against Kimberlin in 2012 in the same manner as Mericle, stepping in to argue the case himself from out of state. Incredibly, his motion to dismiss on behalf of his own DB Capitol Strategies cites Judge Motz's dismissal of Walker's partisan travesty as a reason to dismiss Kimberlin's lawsuit. 
Mr. Backer, who created so-called "super PACs" and will probably succeed in overturning federal candidate contribution limits in this Supreme Court term, had tried to make Kimberlin "settle" that case by giving up control of his nonprofit organizations. And look what we found at the very end of his motion: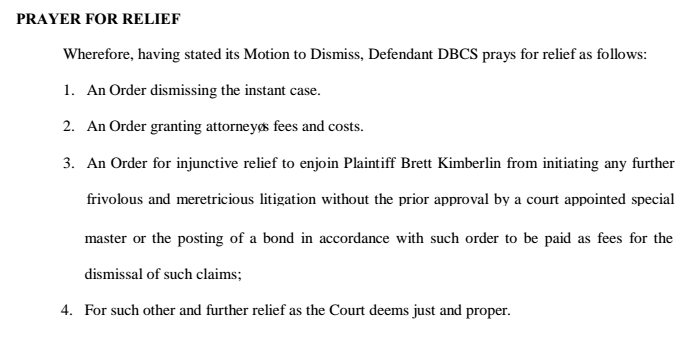 Linda Mericle is not an expert in defamation. Her legal career mainly involves homeowners associations and rent collection. But look at the Franklin Center's response, and you will find this bit at the very end:
While it is certainly not a word-for-word match, both documents indulge the same fantasy that the court will dismiss the case as without merit and adjudicate Brett Kimberlin to be a vexatious litigant. This has always been a peculiar project of Mr. Backer, who called Aaron Walker's suit against Mr. Kimberlin "the case of a lifetime" until Judge Potter dismissed it with a scathing 12-page opinion…which he now cites.
We credit Mr. Backer for having big brass ones.
To be clear, we are not suggesting anything illegal is going on with these motions. Backer apparently talked to Mr. Skyles, who offers online reputational repair at his boutique Chicago law firm, and they have agreed on this strategy. In all likelihood, Ms. Mericle's name is on the document only as a formality. There is nothing wrong with this relationship, but we are quite sure that Mr. Backer is the Alpha in it.
In 2012, the Franklin Center for Government and Public Policy took time away from its core mission to hold a webinar about Mr. Kimberlin and denounce him as a vexatious litigant, among other things. Mr. Backer also took time from his billion-dollar career to sue Mr. Kimberlin on behalf of the same right wing bloggers who complained to the Franklin Center that Mr. Kimberlin was suing them frivolously and vexatiously. These pieces fit, no matter what you read in these rather similar documents, and the picture is of people complaining since 2011 that Kimberlin must be stopped from suing them. Yet until Mr. Kimberlin filed his pair of lawsuits late last year, he had not actually sued any of these people.
Mr. Kimberlin filed his federal suit more than a year after the Franklin Center webinar, and about one year after Motz told Backer never to return to his court with this nonsense again. Many of the defendants in Kimberlin v National Bloggers Club, et al have spent that time still denouncing Kimberlin for imaginary lawsuits he has never filed against them and asking judges to adjudicate Mr. Kimberlin unfit to sue anyone on that same basis. Some of them have gone so far as to attempt to suborn perjury to "prove" Mr. Kimberlin is a perjurer who sues them with lies. The objective, the dream, the "case of a lifetime" is to shut Mr. Kimberlin up before the bar forever. When National Bloggers Club founder and president Ali Akbar was outed as a convicted felon, Backer stepped in to put his "clean hands" on Aaron Walker's lawsuit and keep the dream alive.
Defendant James O'Keefe also dreams of a world without Mr. Kimberlin. O'Keefe is a Franklin Center circuit speaker and trainer. Not coincidentally, the Franklin Center's "Watchdog Wire" has plugged O'Keefe's new book quite a bit. Breakthrough: Our Guerrilla War to Expose Fraud and Save Democracy is rife with errors and false statements of fact (which is pretty much what we expect in anything written by adjudicated libel James O'Keefe). At Wonkette, Matthew Phelan and Liz Farkas read an advance copy of Breakthrough in July and cited his mention of Brett Kimberlin among a top thirteen list of the most delusional passages.

Threshold, the Simon and Schuster imprint which published O'Keefe's book, also published the book by a fake Benghazi witness which spawned an infamous 60 Minutes debacle last year.
Skyles's client appears at other points in our investigation. For example, we have also run across the Franklin Center while following the money trail behind the Institute For Individualism, which raised more than $55,000 for Aaron Walker's preemptive lawsuits against "Team Kimberlin." IFI was founded in 2011 with a $2,623 interest-free loan from Benjamin Barr, a Washington, D.C. attorney who, like Mr. Backer, specializes in meeting the First Amendment challenges of the investor class. Barr lists an advisory position at the Wyoming Liberty Group on his LinkedIn page; that organization is closely linked to the Franklin Center and regularly hosts writers on the ALEC circuit.
Barr has also appeared on panels with Dan Backer to discuss deregulating election money — because that $400 million "dark money ATM" presumably is not deregulated enough to please the Franklin Center, which receives about 95% of its contributions through the Koch brothers' Donors Trust.
Backer, father of all super PACs and treasurer to so many of them, is taking the biggest gamble here. He has serious projects to oversee at DB Capitol Strategies: legalizing Bitcoin donations, helping elect Steve Stockman to the Senate, eliminating federal limits on how much money billionaires can give to federal candidates, and lobbying to prevent disclosure of those contributions so that the money stays dark forever. Skyles has paying clients with damaged online reputations they want to repair; he does not need to waste his time defending online reputation-destroyers. Simon and Schuster would just like this case to go away.
But we do not think that Mr. Skyles or Mr. Backer will be able to make the case go away on a motion to dismiss. So if future hearings in federal court at all resemble the disaster that defendants experienced in Kimberlin's state suit last week, this group of defendants in Kimberlin v NBC et al will have a much greater incentive to settle than Team Akbar, who have the least to lose. Dan Backer is the center of gravity for these institutional defendants, and if he finally sees fit to part ways with Walker and friends, then things will become very interesting to say the least.