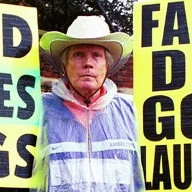 Fred Phelps, the disbarred lawyer and anti-gay pastor who made his Westboro Baptist Church infamous by picketing funerals to protest the existence of gay people in America, is reportedly dying in hospice care. And we thought he was too mean to die:
After Phelps was voted out of Westboro Baptist Church this past summer, he was moved out of the church and into a house, where he was watched to ensure he wouldn't harm himself, a son estranged from the church said Sunday.

Phelps eventually stopped eating and drinking, and on Sunday, he was near death, son Nate Phelps said in a Facebook posting. The information also is based on an email sent by Nate Phelps to a Topeka Capital-Journal reporter.

"(Fred) is at Midland Hospice House where, as of yesterday (Friday), he is comfortable without the respiratory difficulty that he was having the day before and is unresponsive," Nate Phelps wrote, quoting a message sent to him.
Why was Phelps excommunicated by his own church? Why would he deliberately starve himself? Confronted with his own mortality, did he realize at last that he had created a cult of hate instead of a center for Christian charity, and change his heart? Or did his followers decide he was simply too old to hate fags enough anymore, and needed to be put to pasture so that younger, meaner hearts could take over? Or maybe in his dotage, he was too hateful for them to stand having around anymore? His estranged son Nathan has not clarified this point yet.
"I'm not sure how I feel about this," he continued. "Terribly ironic that his devotion to his god ends this way. Destroyed by the monster he made. I feel sad for all the hurt he's caused so many. I feel sad for those who will lose the grandfather and father they loved. And I'm bitterly angry that my family is blocking the family members who left from seeing him, and saying their good-byes."
Perhaps the WBC means to picket Phelps's funeral? Only time will tell, so we have installed a Fred Phelps Deathwatch in the sidebar and plan to stay on top of this story.