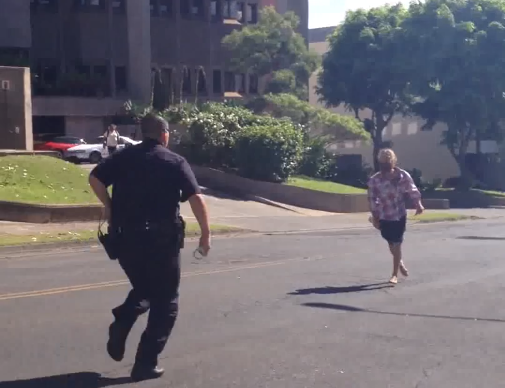 Beau Hawkes, a sovereign citizen who is running for mayor of Maui, Hawaii,  was caught on video being tazed when fleeing police last Wednesday. Hawkes says it all started when he was pulled over for  driving a car without license plates and operating the vehicle while talking on the phone. "I do not use license plates, driver's license, pay taxes, do anything that would bring me into the corporate America system," he told Hawaii News Now. The incident concluded with Hawkes being charged with resisting arrest and failure to obey a police officer.
The 34-year-old sovereign citizen has no plan to quit the campaign, and is currently free on $300 bail, according to Russia Today.
Hawkes, a self-proclaimed sovereign citizen and surfer who also sells s bamboo bongs for a living, says that tasers are a "violation of human rights " and the first thing he's going to do he's going is "sue the police department." Once elected,  "Maui Police Department will be the first police department to ban the user of tasers,"  he told KITV News.
Although Hawkes says he plans on suing, he says be bears no ill will toward the police officers. "I told the officers that I loved them. I told them that I forgive them. I thought it was kind of funny that they had tazered their future mayor," he told Hawaii News Now.