A hot fashion item this summer at the Ontario First Nations' reservation is a tee shirt modeled after the smiling face of the Cleveland Indians' "Chief Wahoo" with the word "Caucasians" written across the top, in lieu of a (racist) team name.
The t-shirt became popular after Ojibwa singer Ian Campeau, also known as Deejay NDN from the DJ group, A Tribe Called Red, was called a "racist hypocrite" for wearing one in public last month prior to the Westfest musical festival, causing at least one angry Caucasian to write a letter threatening to boycott the festivities. The letter also chastised Campeau for his successful campaign against a local football team to change its name from Nepean Redskins to the Eagles. (The change took place after Campeau filed a formal discrimination complaint with the Human Rights Tribunal of Ontario.)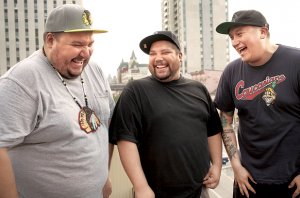 Tracy Bomberry, who lives at the Six Nations of the Grand River reserve in Canada, told The Toronto Star her motivation in following DJ NDN's fashion trend was to spread awareness:
"I have read comments of some of the fans of those sports teams who say they are 'honouring' us with those images," Bomberry said. "So I have to say unequivocally I do not feel honoured by those outdated, offensive team mascots and names, and think its time they be changed. And if we can draw attention to that by turning the tables using a bit of humour then why not?"
The t-shirt design belongs to Brian Kirby, of Shelf Life Clothing in Cleveland Ohio, who told the Toronto Star that the "Caucasians" shirt has always been a bestseller, but interest "skyrocketed" after the DJ NDN controversy, especially once the story went viral on social media. The character, affectionately dubbed "CEO WACKOO" is available as artwork on t-shirts, sweatshirts,  and die-cut stickers.
"We have had over 3,000 shares on posts about the tee in the last month, and have been working around the clock to keep up," Kirby said.