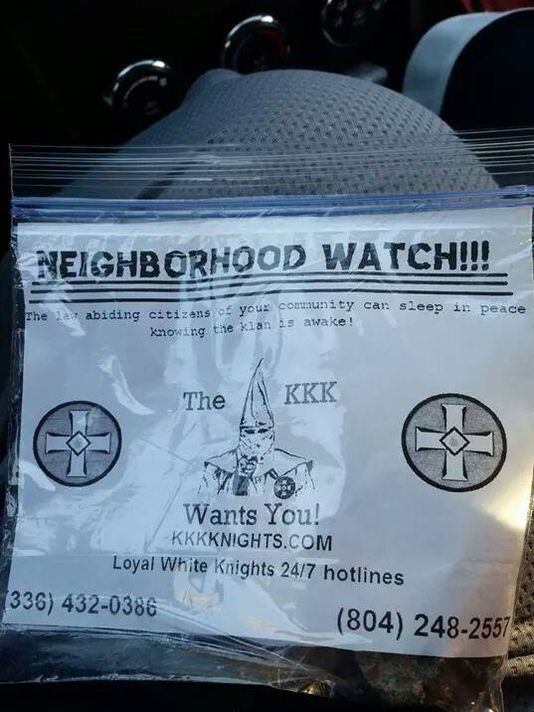 The KKK has distributed at hundreds of fliers across three small Arkansas towns in Lonoke County in the past few days, according to local news affiliate THV11. Residents say they are concerned for their safety after several people spied a white van slowing to throw the flyers, placed in waterproof bags, into residential driveways.
Art Brooke is the mayor of Ward, a town where over 300 fliers were distributed sometime Tuesday evening. He told THV11 that this isn't the first time the city has dealt with the KKK's presence. The last time the KKK tried to recruit was in 1999. The KKK had been gathering on the outskirts of town, and the city took action by installing security cameras to deter their activities. He says that he is again prepared to take government-level action to deter any further KKK activities and make his townspeople feel safe.
"We don't see any benefits from the KKK. They don't provide any services—no shelter for our people. You know they don't provide any food for the hungry," Brooke said.
Reporters attempted to contact the phone numbers listed on the fliers to find out what, exactly, the KKK wants to achieve by passing them out, but they did not return the news agency's calls.
The images of the flyers are remarkably similar to flyers being passed out in North Carolina and other locations across the US. The flyers are widely viewed as a way for the KKK to get media attention, although none of the media attention they've gotten appears to be favorable. As the Washington Post kindly points out, there's no evidence that this activity marks a resurgence in KKK activities, although that's exactly what members of the racist organization are hoping for.