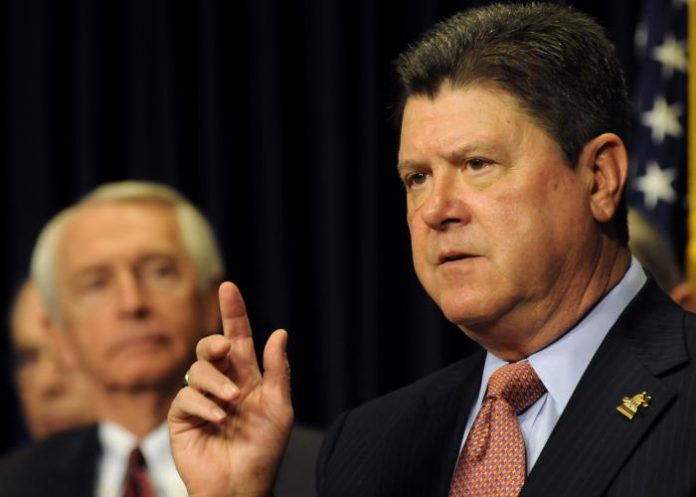 State Rep. Forrest "Ben" Waide, of Madisonville, Kentucky, was indicted this week by a Franklin County Grand Jury. The Grand Jury returned a two-count felony indictment charging Waide with violations of campaign finance laws, according to SurfKy.com.
The charges stem from Waide's 2010 campaign for state representative and are the result of an investigation conducted by Attorney General Jack Conway's Department of Criminal Investigations. AG Conway brought charges after a complaint was filed with the Kentucky Registry of Election Finance by concerned shareholders of Liberty Rehabilitation, where Waide serves as president and director of the corporation. Ben Waide also donated money to the Republican Party of Kentucky in 2012, listing his occupation as "physical therapist" instead of CEO.
According to the Kentucky Attorney General's Office, Waide illegally accepted approximately $10,000 in campaign contributions from Liberty Rehabilitation, where he was a partner. The indictment also charges him with submitting approximately $6,000 in receipts to his campaign fund for reimbursement of expenses that were personal, not campaign-related.
Ben Waide is known for his "clean coal" advocacy, and indeed, he appears to be one of the most active advocates for the coal industry in Kentucky. He has fought tooth and nail against EPA guidelines, and often is a part of festivities provided by Friends of Coal, a "volunteer organization" that is essentially an extension of the West Virginia Coal Association and caters to coal companies, virtually ignoring the health and workplace concerns of actual working coal miners. In addition to creating coloring books, the group specializes in nifty propaganda events for the whole family.
Ben Waide is one of several Kentucky state representatives who headlined a Friends of Coal event in summer, 2013. The event offered up a friendly corn-hole competition, a free gun raffle for miners, and fun presentation for kids explaining "How Coal Makes Our Life Better." (A flyer for the event is posted for your amusement below.)
Friends of Coal Event in Kentucky by HypatiaLivingston
Waide is scheduled for arraignment at 9 a.m. Aug. 29 in Franklin Circuit Court. The charges are Class D felonies. Each charge carries a penalty of one to five years in prison and up to a $10,000 fine.
So, I wonder if his "coal friends" are friendly enough to help him front the legal bills for his defense?