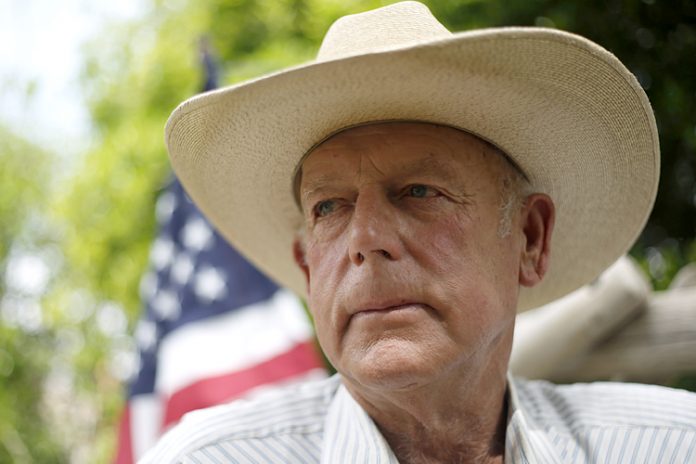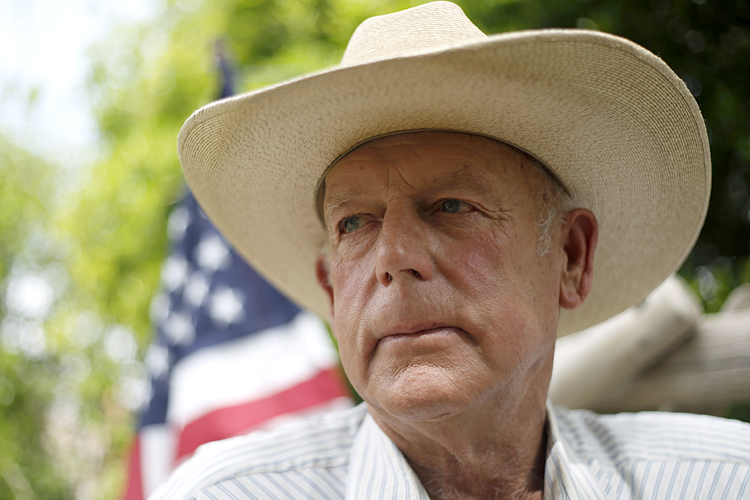 When welfare rancher Cliven Bundy left the GOP and joined the Independent American Party (IAP) in May, it seemed a decisive move to the political fringe where he belongs. That impression deepened over the weekend when Bundy spoke at a Party meeting in St. George, Utah, which was covered by local reporter Kevin Jenkins:
"If the standoff with the Bundys was wrong, would the Lord have been with us?" Bundy asked, noting that no one was killed as tensions escalated. "Could those people that stood without fear and went through that spiritual experience … have done that without the Lord being there? No they couldn't."
Bundy's "miracle" was the decision of federal officials to avoid the bloodbath he very nearly set loose by directing armed 'patriot' militia kooks to confront the Bureau of Land Management. In fact, Bundy's attribution of divine will hearkens to the distant origins of his fight in the violent history of Bundy's religion — which in turn clearly influences the IAP as well as Bundy's speaking style, according to Jenkins.
The IAP draws much of its inspiration from statements made by leaders of The Church of Jesus Christ of Latter-day Saints, and the majority of its members are LDS and Utah residents, although Gneiting said the party is not about doctrines specific to the Mormon religion or any other faith that believes in the biblical "providence of the God of Abraham, Isaac and Jacob."

The LDS church does not endorse any political party, although its Utah members are heavily conservative and Republican.

Even so, Bundy's and Mack's comments were largely couched in the language of the believer and the gathering at times took on the spirit of a revival.

"If our (U.S.) Constitution is an inspired document by our Lord Jesus Christ, then isn't it scripture?" he asked.

"Yes," a chorus of voices replied.

"Isn't it the same as the Book of Mormon and the Bible?" Bundy asked.

"Absolutely," the audience answered.
In another demonstration of his basic incapacity for self-examination, Bundy was at a club meeting of older, self-entitled white people associated with the Latter-day Saints, but seemed confused by the small size of the crowd:
"Where is all of your college students? Where's our young and where's our old? Where's our black and where's our brown?" Bundy asked. "Where are you people? Aren't you interested in freedom and liberty? I'm not here to talk to a club."
Bringing your god to a shootout with the federal government does not legitimate  your cause, it just makes you a dangerous religious extremist.