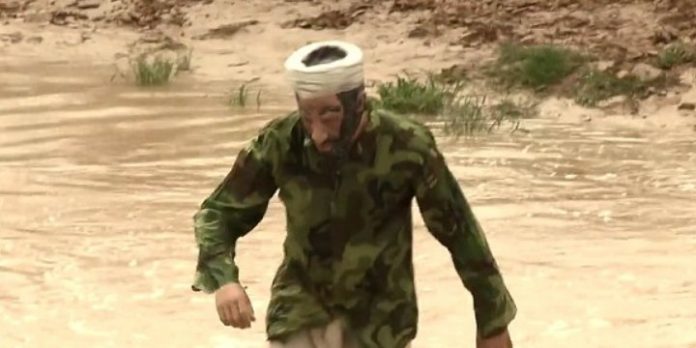 Less than two months after his disastrous attempt to prank anti-fracking filmmakers, conservative smear-merchant James O'Keefe III is at it again, this time with a ridiculous new video purporting to show how "insecure" the US border is. As usual, O'Keefe is intentionally misrepresenting the reality of his topic.
Filmed on the Rio Grande, where the local geology simply doesn't allow for the right wing wet dream of a fifty-foot border wall stubbed with machine guns and protected by snarling dogs, O'Keefe wears an Osama bin Laden mask and wades into the shallowest point of the Rio Grande to make his 'point.'
But the video's release is terribly timed: not only was a Rwandan genocidaire caught at the US-Canada border in Maine last week, federal officials also arrested an American supporter of ISIS when he returned to the country.
Donald Morgan, 44, of North Carolina was arrested on Aug. 2 for being in possession of a rifle as a felon, according to court documents. He was arrested at John F. Kennedy International Airport, where he had arrived on a flight from Lebanon, CBS News reported.

At Morgan's bail hearing at U.S. District Court in Brooklyn last week, prosecutors asked a judge to deny him bail as he had "pledged allegiance to the Islamic State of Iraq and Syria (ISIS) on Twitter," and was a threat to the community, CBS reported.

Judge Ramon Reyes denied Morgan's bail request, court documents show.
"Do you feel safe?" O'Keefe's video asks before making viewers laugh out loud by donning a costume of Osama bin Laden and wading into the water.
Hudspeth County Sheriff Arvin West shows him the incomplete end of the border fence that has already been constructed. Under the Secure Fence Act of 2006, which was enforced by completely ignoring every environmental law, a 400-foot wide swath of Texas has been turned into a double-fenced barrier to wildlife, choking off palm forests and often leaving American property owners on the wrong side of America's "security."
Stretching for hundreds of miles, the $2.4 billion border fence has played no role whatsoever in stemming a now-diminishing wave of Central American refugees, who generally seek out Border Patrol agents themselves when they arrive. O'Keefe pretends to be visiting a major crossing point for them, but none appear in his video, and in fact it is not a major immigration route.
"No walls, no guns, no people!" O'Keefe declares as he wades back into the United States, unintentionally revealing what truly disturbs him: that America's largest federal law enforcement agency isn't there to shoot the scary brown people he imagines are hiding in the bushes on the other side. (For some reason, he never bothers to take his camera into the bush and look for them.)
O'Keefe asks Sheriff West about a grade control structure. He calls it a footbridge, but that is in fact an improvement that keeps the river from shifting its banks and changing the shape of the border. This is an old issue for West, whose predecessor also complained about it, but as O'Keefe himself demonstrates, removing it would be useless — not to mention counter-productive to border security.
But the most hilarious part is where O'Keefe pretends to walk six miles to I-10, where he presumes foreign jihadis and unaccompanied minors simply thumb rides to their secret safe houses and set about plotting the destruction of the United States. The notion of James O'Keefe sweating a six-mile hike in wet shoes? Now that's entertainment.