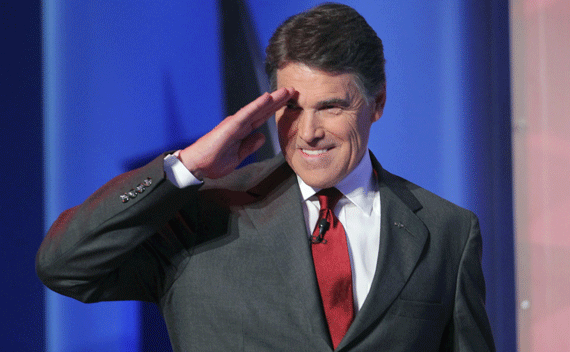 Word has just come out from ABC News that a grand jury has indicted Texas Gov. Rick Perry on abuse of official capacity, a first-degree felony, and coercion of a public servant, a third-degree felony, after several months of investigation by a special prosecutor.
"A special prosecutor spent months calling witnesses and presenting evidence that Perry broke the law when he promised publicly to nix $7.5 million over two years for the public integrity unit, which is run by Travis County Democratic District Attorney Rosemary Lehmberg's office. It's the same office that indicted U.S. Rep. Tom Delay as part of a finance probe."
The grand jury indicted Gov. Perry for allegedly abusing the powers of his office by carrying out a threat to veto funding for state prosecutors investigating public corruption.
The decision to bring charges was not made lightly; "I took into account the fact that we're talking about a governor of a state — and a governor of the state of Texas, which we all love," Michael McCrum, the San Antonio-based special prosecutor, told reporters. "Obviously that carries a lot of importance. But when it gets down to it, the law is the law."
(So the governor of Texas is not above the law. TeaPublicans, Steven Stockman, et. al take notice.)
Perry is the state of Texas's first indicted governor in nearly a century. He was recently spotted touring Iowa testing a rebranding attempt, courting the "hipster vote" and talking immigration issues with his eyes on a 2016 Presidential bid.