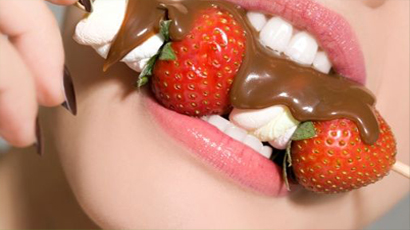 Peter Kaaaden reminds us that food can be sexual if we choose to look at it that way. Pretty much the same way we see sexual images in food menus, I saw some the other day at BJ's (appropriately named of course) and then ran across this article on Peter's work and thought to share it. Peter's work was also a part of the 2014 Vice photo issue.
This reminds me of the old days when subliminal advertising was used in ice cubes and even in movie theaters.
Of course today food as a sexual art form is everywhere. From menus at your favorite restaurant, to foods at the grocery store, food that has a sexual connotation to it tends to sell higher, or at least create the image of sex in your mind, which then leads to desirable thoughts about what one can do to obtain some sort of gratification after viewing it or even eating it.
BJ's Restaurants has the same sexual images attached to their ice cream.