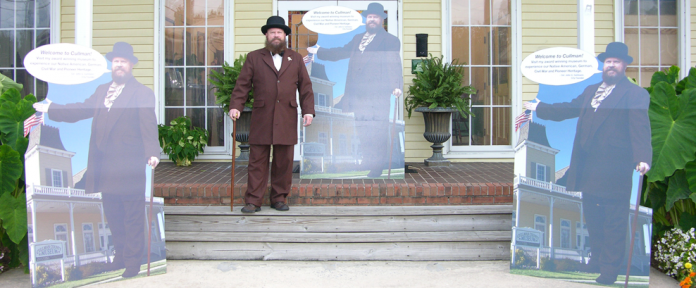 Larry Rowlette is a Nashville, Tennessee native who puts his heart and soul into the re-enactment of historical events, where he plays role of Cullman, Alabama founder, Col. Johann G. Cullmann. Like most re-enactors, he doesn't get paid to do it. He's also not a resident of Cullman.
So what's the motivation? Why does he do it?
"Becoming Colonel Cullmann," a documentary by filmmakers Laura Axelrod and Greg Richter, explores the answer to these questions, the roles historical re-enactors play and how they bring a community together. Her short documentary follows Rowlette through Cullman's annual Oktoberfest and cemetery tour, where Rowlette himself shares his own story and, in full costume and character, a bit of Col. Cullmann's.
"Becoming Colonel Cullmann" is a selection for the 2014 Sidewalk Film Festival in Birmingham, Alabama.
Director Laura Axelrod is a writer, playwright, and actor. Her plays have been performed in New York City, California and Europe.
See a preview of the trailer below:
[youtube]http://youtu.be/Btq0kSGi5kM[/youtube]