Construction of what's being dubbed as "the ultimate LEGO® experience" was announced yesterday as three generations of the owner-family laid six foundation stones in Billund, Denmark, the LEGO Group's home base. The six stones – larger-than-life representations of their toy counterparts, were labeled to symbolize "the values which are at the heart of all LEGO experiences", according to LEGO: Imagination, creativity, fun, learning, caring and quality.
They're the very first pieces of "The LEGO House,"  a giant building that LEGO is building to help the world interact, explore, and celebrate LEGO toys.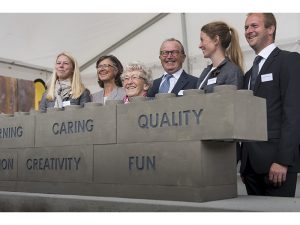 Construction is expected to be complete in 2016, when the approximately 1300 square foot structure is scheduled to debut. The structure is meant to bring out the best of creativity, architectural design, experience, and play.
"For my family and me, the LEGO Group has always been much more than just a company and our products more than just products. I am very passionate about play and how children learn through playing with LEGO bricks. This is essentially the LEGO idea and what the LEGO House is all about. I look forward to seeing the long time dream of having one place where anyone can experience the LEGO idea come true," says Kjeld Kirk Kristiansen, grandson of the founder and current LEGO Group owner.
The LEGO House will be a "hands-on minds-on experience center" where LEGO fans of all ages can visit and play with LEGO bricks, build cool stuff, find inspiration and meet other builders from all over the world. LEGO says that the "interior experiences" of the LEGO House are still "under development," but the tour shows a floor dedicated to modern art pieces made by sculptors using LEGO, an outdoor maze labyrinth and lots of beautifully designed open space. The building's overall design is a tribute to the LEGO brick, while the architecture's brick components are tightly modeled after their small, plastic counterpart.