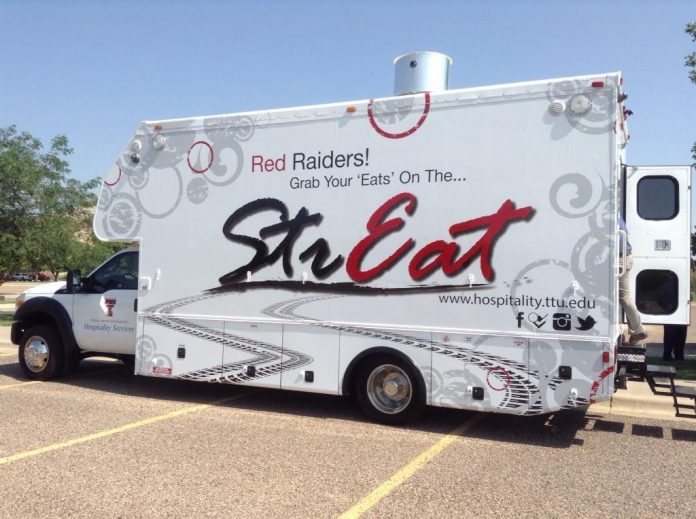 Texas Tech University's Hospitality Services is cashing in on the popularity of food trucks by launching its own campus owned and operated StrEat food truck.
According to the press release, it's the first school-owned food truck in the Big 12 Conference.
The spiffy new food truck offers a unique, on-the-go menu with a variety of flavors. Menu items will change monthly, but some permanent food staples include a StrEat pita taco (fish or beef) and a Monte Cristo sandwich, both created by Hospitality Services' Head Chef Dewey McMurrey.
The StrEat food truck will be open for business this fall and the locations will be announced at a later date.
"The StrEat food truck menu allows our culinary team to stay creative and diverse with what we serve on campus," McMurrey said. "We will be able to change and add unique menu choices throughout the year."
The idea for the food truck came about when Hospitality Services worked toward providing food to students who spend most of their days in buildings far from the SUB. The food truck provides meals for students in multiple locations and was cost-efficient in comparison to building a new eatery in only one area of the Texas Tech campus. Built from the ground up, the StrEat food truck was specifically created for Texas Tech by On the Move Trucks in Boerne.
The StrEat food truck will operate Monday through Friday at various locations on campus. Monday through Thursday it will have a fixed travel schedule, and and Fridays will be a roving day with the surprise location announced via Twitter and Facebook. Students can also book the food truck for campus catering and other events. (And, of course, it will be available during events such as Texas Tech football games.)