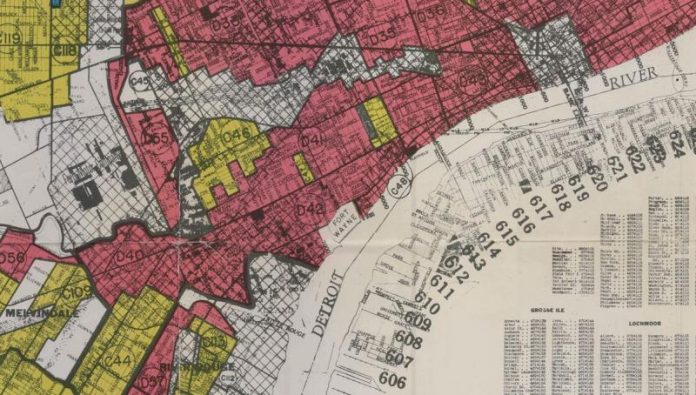 In a news story that ought to belong to the last century, New York Attorney General Eric T. Schneiderman is preparing to sue Evans Bank for "redlining" minority neighborhoods to deny residents new mortgages.
The case, expected to accuse Evans Bank of violating the Fair Housing Act — a federal law intended to ensure equal access to credit — is a harbinger of other lawsuits that could be brought against some of the nation's largest banks, several people briefed on the investigations said.

In the suit, expected to be filed in state court, prosecutors were to outline how, since 2009, Evans Bancorp has created a map that defined the "trade area," places in the Buffalo metropolitan region where the bank would make mortgages and other loans. The bank, prosecutors contend, deliberately excised much of Buffalo's East Side.

Rival banks, the authorities said, lent to neighborhoods on the East Side at a far higher rate than Evans Bank, suggesting that the lending patterns did not stem from a dearth of willing minority borrowers.
Prior to the 2008 mortgage debt crisis, minorities were targeted for subprime mortgages which left them with higher payments and interest rates than white applicants with the same credit. It was actually considered an improvement from the earlier era of redlining. In his May article on the history of these practices, Ta-Nehisi Coates of The Atlantic shined a spotlight on the unequal outcomes of separate mortgages for white and colored homeowners.
Black families, regardless of income, are significantly less wealthy than white families. The Pew Research Center estimates that white households are worth roughly 20 times as much as black households, and that whereas only 15 percent of whites have zero or negative wealth, more than a third of blacks do. Effectively, the black family in America is working without a safety net. When financial calamity strikes—a medical emergency, divorce, job loss—the fall is precipitous.

And just as black families of all incomes remain handicapped by a lack of wealth, so too do they remain handicapped by their restricted choice of neighborhood. Black people with upper-middle-class incomes do not generally live in upper-middle-class neighborhoods. Sharkey's research shows that black families making $100,000 typically live in the kinds of neighborhoods inhabited by white families making $30,000. "Blacks and whites inhabit such different neighborhoods," Sharkey writes, "that it is not possible to compare the economic outcomes of black and white children."
From its origins in federal housing policy to its present uses by private lending institutions, redlining has always negatively affected America's social cohesion. The simmering discontent of Ferguson, Missouri is just one example of the practice's important place in the existing national order of white supremacy over political and economic life.
Demographic transition may be making minorities into the American majority, but the election of our first black president seems more and more like the post-Civil War Reconstruction period, when blacks briefly held power in Southern legislatures before a racist nation turned its back on them.