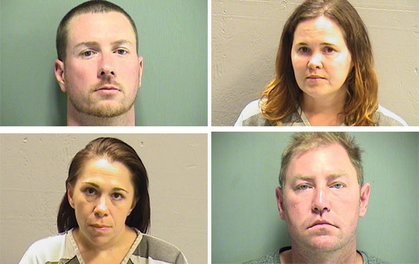 What's your idea of the perfect first date? Is it a double-date with two strangers, a night of drinking, trespassing, breaking and entering? Probably not your cup of tea — and certainly no one expects to end their first date in handcuffs.  But that's exactly what police say happened in Louisiana, when two couples met in person for the first time for an internet date that ended with wrecking a yacht and breaking into homes along the Tchefuncte River in Louisiana, prompting all four peoples' arrests.
It all started on Labor Day evening when Tiffany Reine, Melissa Almanza, Charles Todd and Anthony Wilson decided to meet in person after connecting through a dating website. (It's not clear what website they met through, but I'd love to find out the name!) Anyway, they all met in person and seemed to hit off. "The four spent time at two different restaurants/bars in the area," according to the report from the St. Tammany Parish Sheriff's Office. "(They) then boarded a yacht that was tied to the dock along Water Street in Madisonville."
According to the report, their date "turned sour" when the group started a yacht's engine, causing it to break free and travel across the river. It came to rest moments later, but not before it struck another yacht, a smaller boat and a pier.
The four individuals then fled the area on foot and panic ensued, with the couples splitting and everyone scrambling to get away:
Reine entered one of the homes along Riverwalk Drive and was confronted by residents. She then entered the garage of a second residence and started up a vehicle that she found there in an apparent attempt to flee, but was soon apprehended by arriving deputies.

Almanza was caught on video surveillance walking up the stairs at a third residence, where she shattered the front door window of that home with a flower pot. She jumped from the porch of that residence and fled on foot.

At some point, Almanza got into a vehicle with the two men and drove into Tangipahoa Parish. They were located later Monday night by Tangipahoa Parish Sheriff's deputies at Reine's Ponchatoula residence and were taken into custody.
Investigators are still assessing the damage caused attempting to contact the various owners. All four were booked into the jail on various charges, including trespassing and unauthorized entry of an inhabited dwelling.
Wilson was also charged with one count of possession of a legend drug without a prescription for Viagra that the police found on him.
Oh my. I wonder when the next date will be?