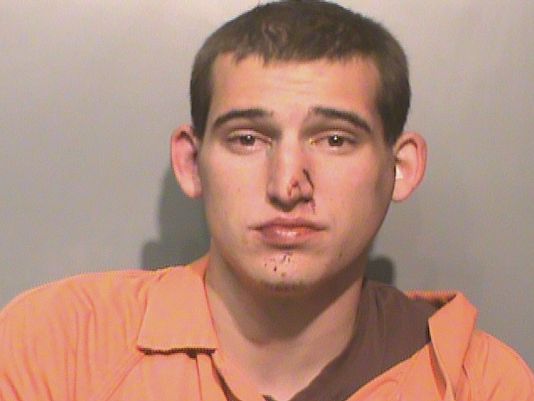 Joshua Charles Stoll, a 21-year-old from Des Moines, Iowa has been charged with a hate crime after ordering his pit bull to attack two black man Sunday evening as he hurled racial epithets. Stoll has been charged with assault in violation of individual rights causing injury — a hate crime — as well as probation violation.
It all started when Stoll, who was reportedly driving drunk with two passengers, stopped his car in front of Kanin Pierce's  brother, a black man who was on the way to his own car which was parked in the street. Two men got out of the car and used a racial slur, according to the Des Moines Register, and that's when the trouble began.
At the time, Pierce  he did not know the men or why they stopped, although the assailants later told police that they believed that Pierce had thrown something at their vehicle. Pierce called for his brother once the two men began walking toward him. His brother told the men to leave.
Stoll, the car's driver, allegedly yelled "Sic 'em, Rider!" to his pit bull terrier. The dog ran toward the 24-year-old Pierce and started biting both of his arms.
Stoll had been in the car with two friends. The male passenger ran off when the attack got bad, but Valerie Lorimor stayed. Lorimor says Stoll isn't completely innocent, but that he isn't racist.
"A dog is going to stick up for its owner so he gets out and protects him and bites one guy and now all of a sudden the dog is a bad guy," she told WHOtv.
Stoll repeatedly called the victim a racial slur as the dog attacked, and even as a group of four or five good Samaritans ran to help the victim, Stoll reportedly told them, "I ain't going nowhere, (racial slur)."
"The fact that he's outside the car yelling these racial slurs to him, then siccing his dog on him, that's what makes it a hate crime," Des Moines Police Sgt. Jason Halifax told WHOtv.
The bystanders who rushed in to help eventually removed the dog from the victim's arms. Pierce's injuries were severe and the hospital said he is in fair condition, with at least ten bite wounds that required treatment.
Multiple witnesses confirmed the victim's and his brother's story, according to police reports.
According to area residents, this is the second time in the past year that Stoll has been accused of using his pit bull as a weapon in an attack. In fact, it was only last July when Stoll ended up beating his ex-girlfriend's new boyfriend in the street. According to a police report, Stoll told police the alleged victim, "Came at him as if he were going to assault him." No charges were ever filed in that case.
According to the ASPCA, violent pit bulls are often the result of poor ownership, and bull terrier breeds are often trained to fight by their human owners. The ASPCA's fact sheet about pit bull cruelty points out: "Pit bulls often attract the worst kind of dog owners — people who are only interested in these dogs for fighting or protection. While pit bulls were once considered especially non-aggressive to people, their reputation has changed, thanks to unscrupulous breeders and irresponsible owners."
Let's hope the owners are held accountable in a court, do some real jail time for the assault, and can never own a dog again.
Stoll is currently in Polk County jail and being held on $6,000 bond.
[Image credit: Des Moines Register]