The Louisiana Tea Party's darling prolife candidate Zach Dasher has an interesting background — certainly not one that you would typically expect; it's grounded in the scientific research / medical industry. But it's not something he's necessarily bragging or talking about.
This week, Tea Party of Louisiana announced their backing of Zach Dasher in the 5th Congressional District race. Zach Dasher, a 36-year-old Republican who never has run for office, is a member of the "Duck Dynasty" clan  — a nephew who Phil Robertson has "personally vetted" according to a new radio ad.
You'd never know exactly what Dasher's background exactly is if you were looking at his campaign website biography: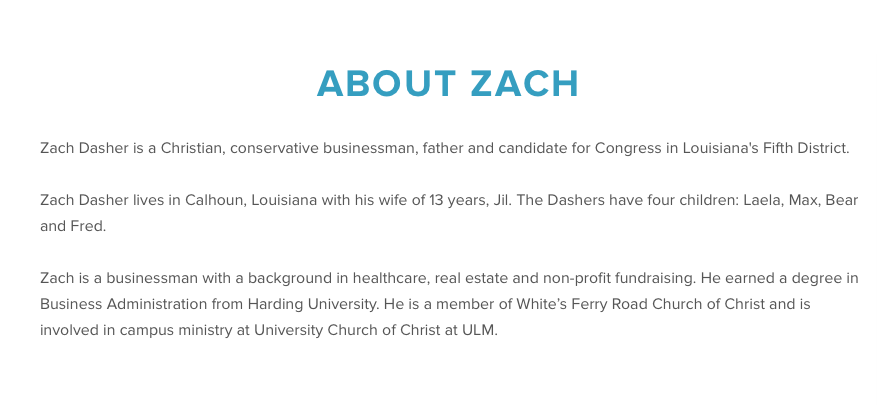 It turns out the Dasher is being pretty humble. Rather than the generic healthcare/businessman job description, it appears he worked 14 miles away from his home in Calhoun and commuted to work each day in West Monroe, Louisiana at a healthcare/pharmaceutical business named Genentech. Dasher, according to his LinkedIn profile,  spent the past seven years as a Senior Clinical Research Specialist with the company. Not too shabby of a career in healthcare if you can get  it — especially at Genentech, where salaries range from 90 to 133k a year, according to Glassdoor.
According to an interview with ABC News, Dasher is currently on unpaid leave with Genentech – which shows he has no qualms about taking money from a company that creates drugs and profits off the byproducts from the abortion industry. (Not that there's anything wrong with that — except, of course, if you are a candidate who preaches against abortion- which Zach Dasher certainly is.)  If he loses the election, he'll be going right back to work.
Friends of Zach Dasher also shows $2,500 in receipts from other employees at Genentech.


"Dasher is pro-life and is a strong supporter of the Second Amendment," stated a press release when Dasher first announced his candidacy. "He favors adoption of a Balanced Budget Amendment to the U.S. Constitution, an overhaul of the Department of Veterans Affairs, and a strong U.S. military."
As far as his pro-life credentials, well, Genentech is a company that spends a bulk of its research in embryonic stem cell research. Sure, they do other types of genetic experiments alongside the embryonic stem-cells, too. For example, they've  had great success re-growing the prostates of mice using stem cells, with the hope that they will be able to replicate the procedure using human stem cells one day.
Genentech also creates biologic treatments produced using aborted fetal cells and/or containing aborted fetal DNA, proteins, and cellular debris, according to SoundChoice, a nonprofit, biomedical research organization.
It seems like his platform is just about as genuine as everything else about the Duck Dynasty clan.
In a recent interview with ABC news, Dasher explained that human beings shouldn't play God, and proclaimed it is time to return to "natural law"..
According to your press release, your campaign is going to be very faith-centric. Why do you think we need more God in Washington?

Because if there is no God, who is the determiner of human rights and the value of human life? If there is no god, then man is the determiner of all things. Now which man is that? Well it happens to be the one with the biggest stick, which usually ends up being government because they have tanks and air force and they have an army. So I think it's scary if we put the power of determining human rights in the hands of the ruling class. So we need to return to the natural law.
Dasher has never previously run for any political office and there is scant evidence of his aspirations on the web as well. He is one of eight candidates running against GOP incumbent Vance McAllister, who was elected with the "Duck Dynasty" family's support.
McAllister was caught on video kissing a married staffer who wasn't his wife this year, but now everything is cool with his wife, according to a new ad put out by the incumbent's campaign.
[Image credit: Zach Dasher, Twitter]