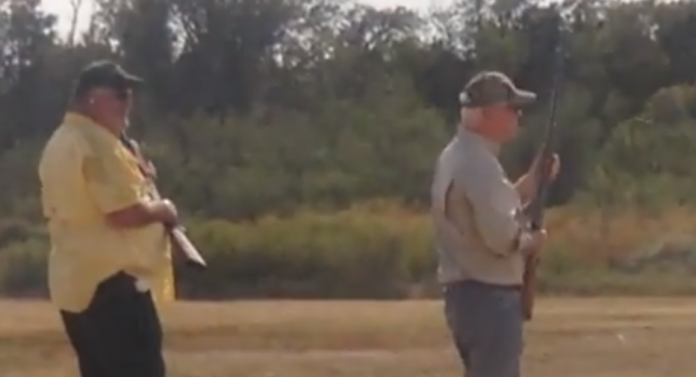 An animal rights group caught wind of a fundraiser incumbent Senator James Inhofe (R) was holding in his home state of Oklahoma and infiltrated it as he and his staff unleashed 1000 pigeons for his supporters to slaughter. The process reflects a sociopathy that hasn't yet been outlawed in Oklahoma; the birds are thrown into the sky, just to fly a few yards up and be killed. It's an act of hunting that requires little to no skill at all; and the video shows how gratuitous the "hunt" is; it's basically substituting live birds for clay disks that are used in skeet shooting.  There are about a half-dozen men (and one woman) lined up at bales of hay to have a volunteer launch a pigeon into the air so they, too, can shoot it down.
SHARK explains how they got the footage on their website:
On August 7, 2014, SHowing Animals Respect and Kindness (SHARK) received an anonymous letter informing us that United States Senator Jim Inhofe, Republican of Oklahoma, was to have a live pigeon shoot as part of his fundraising event on September 5, 2014, at the Quartz Mountain Lodge in Lone Wolf, Oklahoma. The fundraiser was to support the "Friends of Jim Inhofe and the Fund For A Conservative Future."

The unknown writer said that they were a Republican and long time supporter of Senator Inhofe. They stated that: "The live pigeon shoot event is an embarrassment to hunters and to Republican (sic) supporters of Senator Inhofe. Someone, including Senator Inhofe, has apparently decided to push the limits beyond what is reasonable in most anyone's mind, and I believe it has been done just to provide shock value and show the public that Senator Inhofe is such a hard-core conservative that he will go as far as killing animals for no other reason than shooting practice, which is simply animal cruelty."

As SHARK is the nationwide leader in the animal protection movement fighting against live pigeons shoots, we decided to send in an undercover investigator to the event to both witness and film the pigeon shoot.
What kind of person waits in line to slaughter an animal that has only, at that very moment, been allowed outside a cage for the first time?
Warning: This video contains  graphic images of animal slaughter