Shirley Baskin Familian is a 93-year-old artist who has always been frugal. About 40 years ago, she developed an interest in stamps that traveled  the world to make their way to her mailbox. She started collecting them, and sorting them — eventually transforming them into artist creations. As a result, she has been doing her own creative work with these stamps for the past 25 years.
"Stamps are wonderful! The designs contain rich, vibrant colors that don't fade," she said about the work. "As an artist, I figured another artist designed this. It had to be approved by someone and it had to be printed. The engraving on them is beautiful, and I just got in the habit of looking at every stamp that came in my mailbox."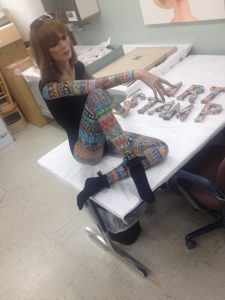 More than 25,000 stamps have made the journey through her mailbox. Nowadays, Familian strategically sorts and organizes them by color as she receives them. She creates geometric patterns, using her imagination to cut the stamps and glue them together. The result is unique pieces of art that encourage others to look at stamps in a completely different way.
Once you have seen Familian's creations, it's hard to believe she just shy of 94 years young. Those who have witnessed her nimble fingers cut around the artwork or watched as her sharp eyes assess the details of her work without glasses can vouch for the fact that age is just a number.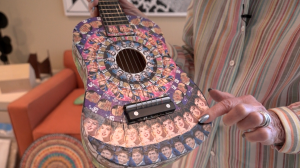 Familian says the work relaxes her and puts her into a somewhat meditative state.
"I'm lucky that I'm still in good physical shape, workout, keep myself moving," said Familian. "The repetitive motion is very relaxing for me – in fact, I lose track of time. I turn the music on, go to the kitchen and go to work. I think it's one thing that has kept me on the move. I just love doing it and miss it when I'm not doing it. When I finish one piece, my mind immediately goes to what am I going to do now?"
Familian's late husband was co-creator of "Baskin-Robbins 31 Flavors" ice cream chain. She graduated from the University of Washington with an Art & Advertising Major BA Degree in 1942.
You can view 18 of her whimsical and colorful creations yourself at The Children's Museum of Indianapolis September 27 – December 14, 2014.
[All images courtesy Shirley Baskin Familian/ The Childrens Museum of Indianapolis]