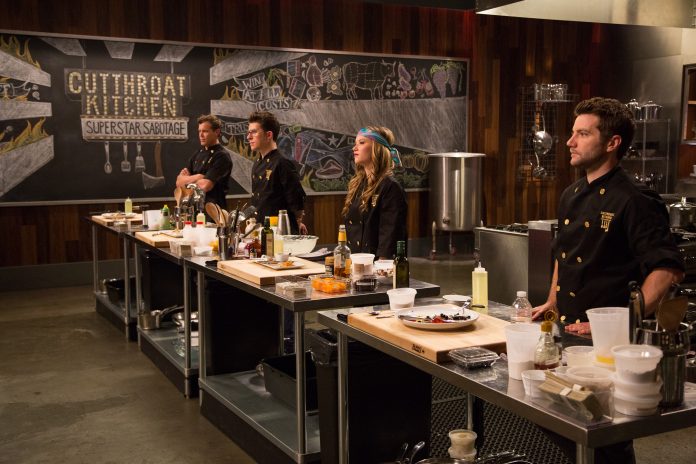 Cutthroat Kitchen goes all-star this fall, with sixteen celebrity chefs competing in the five-episode series that premiers tonight.
The Cutthroat Kitchen: Superstar Sabotage tournament takes pace under the watchful eye of host Alton Brown. The show combines two favorite staples of the reality show business — cooking, and sabotage. Only the craftiest and most cunning chefs will survive battle using their cooking skills and sabotage skills.
Tonight's battle will feature chefs Susan Feniger, Jeff Mauro, Michael Psilakis and Aarti Sequeira, who will battling to cook while facing sabotage from a treadmill station, a "carnival hammer game" and a "conveyer toaster".
Sounds a bit ridiculous? You bet. A bit messy? Sure. But it's all for a good cause and if you like cooking shows — especially cooking reality shows — it's guaranteed to bring some high-quality entertainment to your evening.
At the end of the tournament, one chef will be left standing with bragging rights and up to $75,000 for the charity of their choice.
The primetime event kicks off tonight at 9pm ET/PT with the first all-star match-up, leading up to a final showdown between the four heat winners on Wednesday, November 5th at 9pm ET/PT, where the grand prize is awarded.
[Image Credit: Food Network]