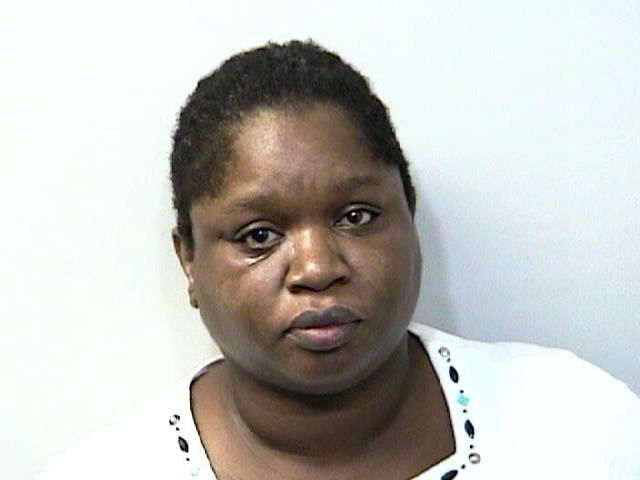 It must have been a shocking scene to witness when Yinka Adeshina, a former GOP gubernatorial candidate in the 2014 primaries, was arrested in Tallahassee Regional Airport after returning from a 3 week trip to Nigeria. She was apprehended and handcuffed by a police force decked out in full-fledged Hazmat suits to protect themselves from potential Ebola exposure, according to local news affiliate WTXL.
Adeshina, a candidate who finished a distant third to Gov. Rick Scott in the Republican primary, was arrested on two felony counts of fraud on Monday and booked into the Leon County jail in Tallahassee on $10,000 bail. Authorities say Adeshina falsely claimed $182,000 in campaign contributions from dozens of people who do not exist in order to get matching funds — $150,000 — from the state.
The arrest warrant indicated that 18 of 25 donors on one of her campaign receipts did not exist. She chose to run a shadow campaign in a very public matter. Like many GOP politicians criminals, she apparently conducted a fairly transparently-fake campaign and did little to cover her tracks. (in other words, she lied — a lot, and badly.) A local blog, Political Fix Florida, unearthed her sketchy finances back in June:
Her campaign finance report includes 407 individual contributions, but those come from less than 70 addresses. For instance, Adeshina lists 19 contributions totaling nearly $20,000 coming from the same address on Crosspointe Way in Tallahassee where she lives.

Nearly 40 contributors are listed as coming from the Fort Lauderdale address that is not listed in county property records. There are a host of other addresses on her reports that are not reflected in state and local property records.

In addition, 75 percent of her donor's list their occupation as nurse, cashier, manager, waiter/waitress, or office assistant. It's rare for any candidate to receive such a large portion of their contributions from such a select few professions.

One of her donors is listed as "Goodluck Jonathan," a name shared by the president of Nigeria. During the first interview, Adeshina said he worked at Florida A&M, which is untrue, according to a school spokeswoman.
When asked about him during the second interview, the 42-year-old Adeshina said he was "a young guy," but later in the same sentence said he was "probably in his 50s." She thought he worked in Florida A&M's sociology department.

No one named Goodluck Jonathan lives in Florida, according to software that searches billions of publically (sic) available records. Using that same software, the Scripps/Tribune Capitol Bureau was unable to identify a host of other donors listed on Adeshina's campaign finance reports.
Adeshina actually did have enough GOP supporters to end up with 1.8% of the vote in the primary. Perhaps it was her charming social media demeanor?
Yinka for Governor 2014, here in Florida. Just came out of a conference. Went well. Expect win this primaries. You bet. 3/28/14

— YINKA ADESHINA (@YINKAADESHINA1) March 28, 2014
Adeshina was arrested on the 13th at the Tallahassee Regional Airport, after returning from a three-week vacation in Nigeria, a country of "high concern" for Ebola. Adeshina had already been screened for the virus in Atlanta where it was determined she did not show any symptoms of the disease. Arresting officers weren't taking any chances, however, and donned masks and gloves for cautionary purposes during her arrest even without a fever. (Although it's highly doubtful that the inmates or corrections officers she is being housed with are being extended the same protection, so it's not clear what logic the arresting officers were employing…)
Oh yeah, it's Florida… 🙂
[Image Credit: WTXL]