The Central Bucks Police force only patrols 3.5 miles of Pennsylvania land, so it's no surprise that their local residents took notice when they purchased a MRAP, also known a Mine Resistant Ambush Protected unit, often seen in the front lines of war zones like Iraq or Afghanistan.
The armored vehicle is part of the Central Bucks Response Team. Central Bucks is a police department that covers Doylestown and New Britain, two small-town boroughs seated in Bucks County, Pennsylvania. Doylestown has a population of 8,380 people according to the 2010 Census report, and the area of land policed is 2.2 miles. New Britain, also managed by the same law enforcement branch, has a population of just 3,152. The borough has a total area of 1.3 square miles to its name, all of it land.
Police say the MRAP's purpose is to protect officers and citizens during police shootouts. "Whether it be police officers whether it be citizens, we have had to take people out of houses or apartments through gunfire," Warwick Police Department Chief Mark Goldberg told reporters.
The MRAP is actually designed to do just that — take people out. It is designed to absorb significant gunfire while taking out significant threats. It's built for patrolling and all-terrain situations. Like this:
Rural locations are far from the worst culprits of a government system that is basically handing out military machinery to cowboy branches of law enforcement and public government left and right as part of the Defense Authorization Act, which basically gives hand-me-down military equipment to "needy" government entities, who only pay for the cost of shipping.
California, one of the most progressive states in the US, has noticed this trend as well. "This thing has a turret — it's the kind of thing that is used in Afghanistan and Iraq," Mayor Dan Wolk told a university that purchased an MRAP from the government over the summer, prompting officials in Davis, California to vote to return the equipment to the government.
San Diego recently bought an MRAP for its school districts, all the while insisting it was not a tank.
Interestingly, the MRAP vehicles have long been a symbol of wasted military dollars and mismanaged government procurement. Critics say the Pentagon wasted nearly 50 billion dollars in procurement of MRAP vehicles.  Models between 2007 and 2012 were often criticized and then revised due to problems like rollovers and snags. There is also a danger in rural areas that aren't keeping their roads up —  the weight of the MRAP was often cited as the cause of poorly built or maintained roads in rural Iraq or Afghanistan  collapsing. An earlier models' height caused it to snag and entangle on low-hanging electric wires, causing risk of electric shock. Because of these problems, there are several models of the MRAP out of commission.
Vehicles purchased by small branches of law enforcement don't add any money to recouping the Pentagon's wasted money. The government only charges about five to ten grand for delivery.  That's money that 's wasted mostly on the side of the small and local governments, who often buy the equipment and then say they hope they never have to use the 18 ton vehicles.
Bucks County police also say the MRAP is not a tank. It won't be armed — it's unclear if the gun turrets will be removed — and it will not be patrolling Bucks County neighborhoods. Warwick Police Chief Mark Goldberg says aside from transport costs of about $7,000, the MRAP didn't cost the county any money.
However, it's really difficult to forget how quickly the usage of tanks was turned to imply the threat of brute police force in Ferguson when law enforcement interpreted citizen outrage as a physical threat.  What followed that threat was pretty terrifying as well.
Are we really to expect that small town police forces won't try to find an excuse to use their big, intimidating, armored vehicles like that?
It's a scary thought that only time will tell.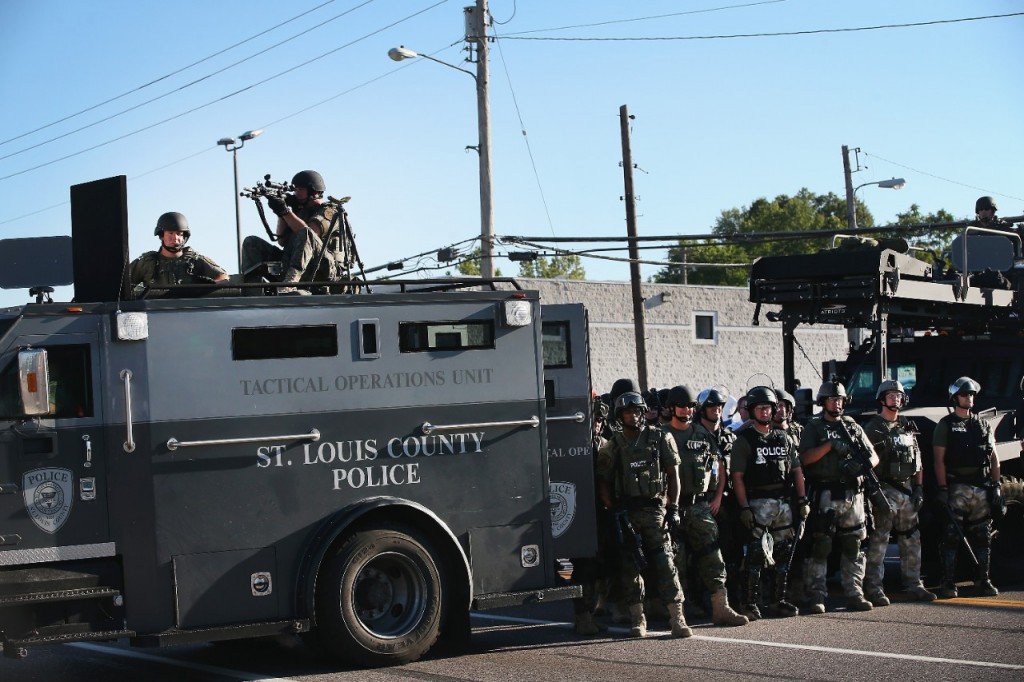 [Top Image Credit: US Army]