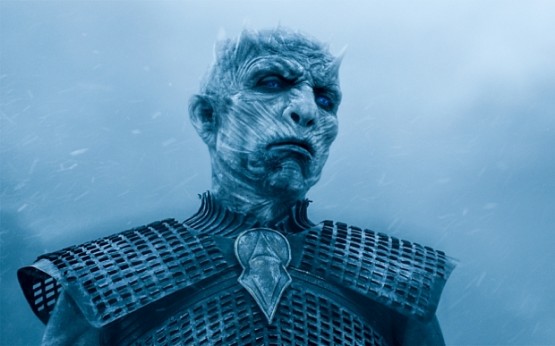 In my new article "Game Of GOP Thrones: Hard Head Rick Scott," I interrupt your regularly scheduled programming by "Ray Ban Rand Paul" to write about "The Night's Governor," Rick Scott of Florida.  Quotes from "Game of Thrones" Season Five Episode Eight are sprinkled in for seasoning. I will also mix in lyrics from my Rick Scott parody song, "Bye Bye, You Shiny-Headed Bald Guy," which summarizes Florida's hellscape of corruption, corporate welfare, austerity cuts, privatized prisons, union-busting, and climate change denialism.
There's obscene, there's vulgar, and then there's the political mind of Rick Scott. Today, Republican presidential hopefuls descend upon Rick Scott's first-ever "Economic Growth Summit." This Koch-tacular conference happens at Disney's Dungeon of Doom in Central Florida, home of tweekers and Ambien-popping sex-addicted golfers. The lineup includes Mike Huckabee, Rick Perry, Scott Walker, Chris Christie, Bobby Jindal, and Jeb Bush. Marco Rubio was too busy to attend in person as he was back in Washington shilling for the Surveillance State. He did send a video.
As you may have heard this past week Kentucky Senator Rand Paul passionately advocated against the NSA's bulk collection of Americans' phone data and the "Patriot Act." However, "Ray Ban Rand Paul" let his solipsistic nature show when he declared about his opponents: "People here in town think I'm making a huge mistake. Some of them I think secretly want there to be an attack on the United States so they can blame it on me. One of the people in the media the other day came up to me and said, oh, when there's a great attack aren't you going to feel guilty you caused this attack?" These self-referential remarks are inaccurate and irresponsible. Who would think that a guy that hangs out on the regular with "conspi-racist" Alex Jones would make such statements? I have a bad case of Rand Paul fatigue, so I will instead focus upon the demented vision of Rick Scott and his quest to confiscate funds from the social safety net to feed the capitalist piggy banks of wealthy donors.
"I hope you'll excuse me for saying it, but belief is so often the death of reason."
Rick Scott is a politician motivated by ideology, and he pushes his philosophy even when more rational courses of action exist. For example, Scott sued the federal government instead of accepting federal Medicaid money that is attached to Obamacare. He stated "President Obama's sudden end to the Low Income Pool (LIP) health care program to leverage us for Obamacare is illegal and a blatant overreach of executive power." Scott continues to put politics before his people when he proposes dramatic cuts to safety net hospitals which serve the poor (http://tbo.com/news/education/hospitals-shudder-at-deep-cuts-scott-seeks-in-medicaid-debate-20150529/).
Rick Scott has provided Florida with a steady diet of neoliberal feudalism since entering office as Governor of Florida in 2011. Bill Fletcher Jr. recently wrote an excellent piece in AlterNet called "Neoliberalism Has Created New System of Dual Citizenship for the Poor and the 1%"  (http://www.alternet.org/news-amp-politics/neoliberalism-has-created-new-system-dual-citizenship-poor-and-1). Fletcher Jr. observed that "labor unions are an instrument to struggle against sub-citizenship which, in many respects, constitutes part of the explanation as to why they are being viciously attacked. Neo-liberal capital needs the sub-citizen category not only as a source for increasing their profits, but also as a means of eliminating or reducing the size of the relevant population (thereby reducing the demand for the provision of social and human services to huge segments of society)."
"His entire claim to the throne rests on the illegitimacy of yours."
Rick Scott was CEO of Columbia/HCA when it was fined $1.7 billion for Medicare fraud of historic proportions. Then he was elected not once but TWICE as the Governor of Florida. He also possibly has his eyes on becoming Florida's next U.S. Senator.
Only a few short years ago
I can still remember how Rick Scott built his fortune at Columbia
He bought hospitals by the dozens
And drew blood from each one until they were anemic
But every merger made me shiver
Those acquisitions he did deliver
Bad news for the quality of care
But Governor Rick Scott didn't care
Monopolized markets and slashed down his costs
Destroyed the competition but many jobs were lost
I wonder if Governor Scott cried
The day that Florida died
"If I want jokes, I'll get myself a proper fool."
So bye-bye you shiny headed bald guy
We need another Governor you failed on your try
I'll call you a cab in fact I'll give you a ride
Don't let the door slam you on your way out
Don't let the door slam you on your way out
"The High Sparrow will be presenting a substantial case against you. The charges? Fornication, treason, incest, the murder of King Robert."
Did you see Columbia/HCA?
Largest hospital fraud in the USA
1.7 billion dollars they had to pay
The FBI came crashing through their door
Seizing records and even more
Overbilling Medicare and Medicaid
Don't you know?
"He hunted him and caught him and strapped him to a cross and cut away piece after piece until there was no Theon left."
His business preys upon the seek and meek
Cannibals eat up the economically weak
He'll rob them of their shoes
Until they sing the blues
"When I was eight, I begged enough money to buy my first bucket of oysters."
Rick Scott is no "Jenny from the Block." Like Jennifer Lopez, Rick Scott used to have a little but now he has a lot. Recall that no matter where Jenny goes, she knows where she came from — Rick Scott, however, has forgotten his humble beginnings and turns his nose up to those who are less fortunate.
He had a humble beginning his dad drove a truck
But when it comes to the poor, he just don't give a f-ck
But Governor Rick Scott was out of luck
The day that Florida died
So bye-bye you shiny headed bald guy
We need another Governor you failed on your try
I'll call you a cab in fact I'll give you a ride
Don't let the door slam you on your way out
Don't let the door slam you on your way out
"We're leaving too many behind." 
Now for four years Florida's been on its own
Disabilities funding was cut to the bone
That's not how Florida used to be
He curried favor with wealthy kings and queens
To the common person he acts so mean
Shut down the voice that came from you and me
While Rick Scott was looking down
The FBI broke his doors down
The trial was adjourned
1.7 billion dollar verdict was returned
"That we hit first and hit hard and leave a feast for the crows."
And while Rick Scott shredded Medicaid
And gave corporations financial aid
Left the tired and poor behind to fade
The day that Florida died
So bye-bye you shiny headed bald guy
We need another Governor you failed on your try
I'll call you a cab in fact I'll give you a ride
Don't let the door slam you on your way out
Don't let the door slam you on your way out
"When I served as Hand of the King, I did quite well with the latter considering the king in question preferred torturing animals to leading his people."
There's nothing he can do to save face
A Crooked Governor in an election race
With no time to rewrite his sorry record
So come on Rick be nimble Rick be quick
You can beat voter turnout down with a stick
Cause voter suppression is the Devil's only friend
I watched him on the podium tell lies on stage
My fingers were clenched in a ball of rage
Protest singers will give him hell
To break Governor Satan's spell
And as Privatized Prisons are built up through the night
The docile masses don't question whether it's right
I saw Rick Scott laughing with delight
The day that Florida died
So bye-bye you shiny headed bald guy
We need another Governor you failed on your try
I'll call you a cab in fact I'll give you a ride
Don't let the door slam you on your way out
Don't let the door slam you on your way out
"I fought so that no child born into Salver's Bay would ever know what it meant to be bought or sold."
I met a teacher who sang the blues
About private publically funded virtual charter schools
From education Rick Scott turned away
And our teachers have the lowest pay
They're the only hope for our kids today
But standardized tests will blow them away
Koch sponsored (and "Rick Scott-approved") ideology infiltrated Florida State University (http://www.alternet.org/koch-brothers-teach-our-libertarian-claptrap-and-get-millions-your-college), not surprising given the existence of Center on Reinventing Public Education (CRPE); see http://www.progressive.org/news/2015/05/188152/secret-group-wants-take-over-your-school for more details on the Koch "free-market education reform movement" (e.g., "Teach For America"). Koch groups even go so far as to create lesson plans for high school students (http://thinkprogress.org/justice/2014/12/14/3602343/koch-fueled-history-lessons/).
And in the streets, no one screamed
The Poets cried while the CEO's dreamed
But no words were ever spoken
When our society was broken
"She will make a fine servant for the Many-Faced God."
Despite nursing off of the federal government teet for his entire life, Rick Scott worships at the feet of the Goddess of Rugged Individualism Ayn Rand. He serves the esteemed "job creators" the Koch Brothers by following the "Americans for Prosperity" playbook note-for-note.
The three people Rick Scott admires the most
Ayn Rand and the brothers Koch
They watched rising sea levels destroy the coast
The day that Florida died
 So bye-bye you shiny headed bald guy
We need another Governor you failed on your try
I'll call you a cab in fact I'll give you a ride
Don't let the door slam you on your way out
Don't let the door slam you on your way out
"Bye Bye, You Shiny-Headed Bald Guy" lyrics by James Rustad. Copyright 2014. All Rights Reserved. Watch the music video here:
https://www.youtube.com/watch?v=rMSxEZ7hSVg