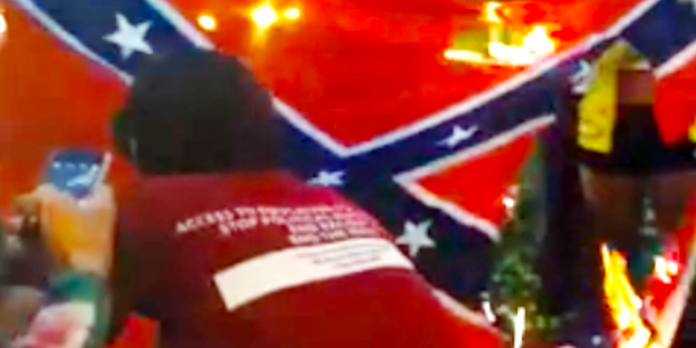 As mainstream Republicans continue to join the new party line on removing the confederate flag from southern state capitols, supporters of historical white supremacy are turning out to defend the banners. After Alabama Governor Robert Bentley unilaterally removed them from the state house grounds last Friday, a small group of angry old white people turned out to whine that "southern lives matter" in an impromptu protest that their "heritage" is under assault.
But in South Carolina, where actual laws must be repealed to remove the confederate battle flag from capitol grounds, one activist removed the flag in nonviolent protest, only to see state employees promptly raise it again — and then protesters on both sides of the issue turned out to yell at each other. Even now that the Ku Klux Klan has announced plans to hold a rally against the "cultural genocide" of white people in Charleston, some white southerners still refuse to acknowledge the confederate flag is a bit controversial.
This fight is clearly not over, and tempers seem to get hotter with each day that Dylann Roof's slaughter at Emanuel AME church recedes.
It's in this context that I note the trend of setting confederate flags on fire as a protest against reactionary politics and lingering white supremacy. Torching a flag is a much more final act than simply taking it down from a pole. In fact, a group of activists turned out in Brooksville, Florida over the weekend with plans to hold a flag-burning, but ended up just confronting counter-protesters instead. Meanwhile, activists in Jersey City followed through on their plans; so did a group in Chicago and another in California. This is officially A Thing now.
Controversy over the flag is as old as the Civil War, but the emerging form of protest actually predates Roof's massacre. Tallahassee activists burned a confederate flag in April after a series of embarrassing revelations about Klan activity in Florida police departments. A conceptual art project to burn and bury confederate flags across the South also ignited controversy in May. But contrary to what mainstream media says upon discovering the phenomenon, confederate flag burning is not really even a new thing in social media, for YouTube videos associated with "Burn a Confederate Flag Day" date back to 2009.
Is the act of burning a confederate flag ready to go mainstream as a means of rejecting hate with finality, or is flag-burning just too radical as a means of protest? Tell us your opinion!
[wpdevart_poll id="5″ theme="0″]