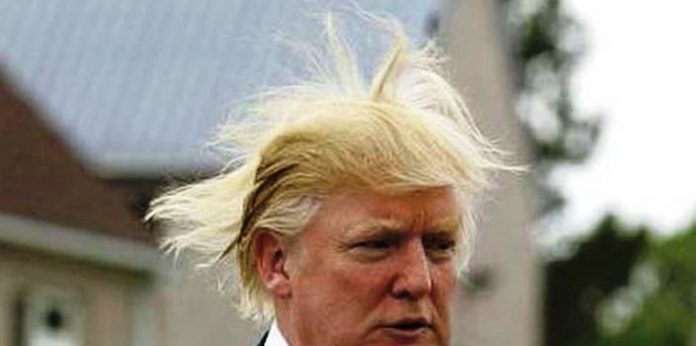 Ivana Trump, former spouse of current Republican presidential front-runner Donald Trump, once felt "violated" by her then-husband's act of forcible sex.
According to Lost Tycoon: The Many Lives of Donald J. Trump, a biography written by former Texas Monthly and Newsweek reporter Harry Hurt III, Ivana accused the reality TV star of pulling out handfuls of her hair during the assault.
Hurt was able to read a deposition in the taken during the couple's divorce proceedings, and recounts that Ivana claimed the attack took place because the controversial Republican candidate had used her trusted plastic surgeon for a scalp procedure, was disappointed in the results, and then blamed her in a fit of rage.
Re-reporting the allegation, Tim Mak and Brandy Zadrozny contacted The Trump Organization for The Daily Beast and got these amazing comments:
Michael Cohen, special counsel at The Trump Organization, defended his boss, saying, "You're talking about the front-runner for the GOP, presidential candidate, as well as private individual who never raped anybody. And, of course, understand that by the very definition, you can't rape your spouse."

"It is true," Cohen added. "You cannot rape your spouse. And there's very clear case law."
As Mak points out, marital rape laws exist across the country, including New York. But then Mr. Michael 'special counsel' Cohen added hilarious threats to the discussion:
"I will make sure that you and I meet one day while we're in the courthouse. And I will take you for every penny you still don't have. And I will come after your Daily Beast and everybody else that you possibly know," Cohen said. "So I'm warning you, tread very fucking lightly, because what I'm going to do to you is going to be fucking disgusting. You understand me?"

"You write a story that has Mr. Trump's name in it, with the word 'rape,' and I'm going to mess your life up…for as long as you're on this frickin' planet…you're going to have judgments against you, so much money, you'll never know how to get out from underneath it," he added.
To be completely fair, Ivana Trump is under a gag order and has disputed the "literal or criminal" nature of her rape experience.
Are Trump's repeated references to immigrants as rapists really statements of psychological projection from an actual, real, not-imaginary rapist? Has Trump allegedly raped only one wife, or is Marla Maples also perhaps a victim made silent by his fortune? Is it possible that Donald Trump is a serial marital rapist, a Bill Cosby with wedding bands instead of Quaaludes? Comment below and tell us what you think! Now, here's a totally-unscientific poll:
Do you think Donald Trump raped his ex-wife or wives?
[poll id="3″]