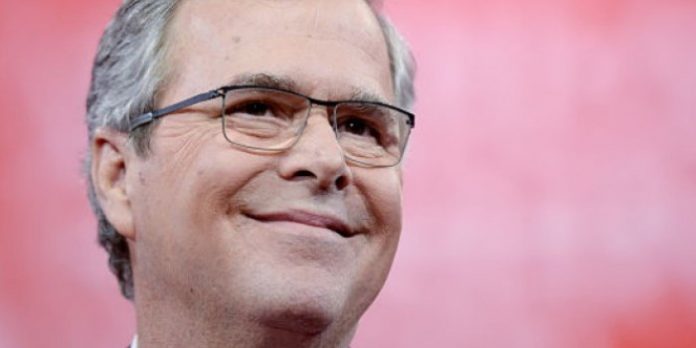 Late last week, US News obtained a 112-page internal report from the Jeb! Bush campaign that included a 45-slide PowerPoint presentation. It's packed with the sort of fodder that political talking heads enjoy, such as internal polling and plans for a January ad blitz, but the parts that drew the most attention are the reasoning behind Jeb!'s attacks on Marco Rubio during last week's debate, including cryptic references to dirt in his background. Jeb! now says that he never saw those slides about Rubio, but the 'comeback strategy' outlined in the presentation made an appearance today as a trending hashtag of "Jeb Can Fix It," his new campaign slogan, so take such denials for what they're worth.
Reading the slides, it's clear that Jeb! and his staff think very little of the modern GOP electorate, which is not an altogether unreasonable position.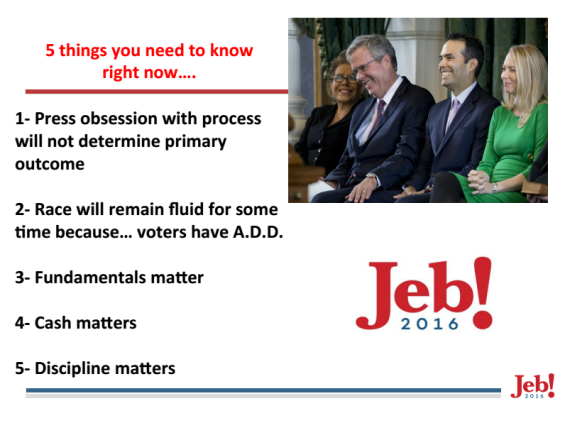 Get that? The reason that only one in twenty Republican voters supports Jeb! is that the other nineteen all have Attention Deficit Disorder — that is, they are unfocused, disorganized, forgetful, impulsive, restless, unmotivated, and prone to moodswings. Just to be sure we get the point, the report's authors bring this meme up a second time: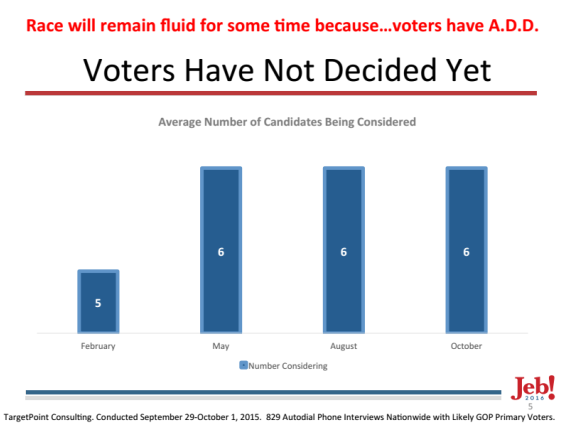 Of course, few families have done more to promote this state of affairs than the Bush clan, but we can hardly blame the entirety of Republican infantilization on Jeb!, his brother, or his dad, because it is a genuine movement phenomenon. In 2013, when far-right conservatives gathered with Breitbart writers, birther lunatic Jerry Boykin, disgraced torturer Allen West, anti-immigration activists from True the Vote, and the wife of Supreme Court Justice Clarence Thomas in order to propel the Benghazi hoax and other fake scandals in Congress as 'Groundswell,' one of their memos read:  "We must reclaim the language and put 'a face' on our messages; tell stories. Write articles on 4th grade level!" When anti-gay group National Organization for Marriage wanted to lobby Americans against marriage equality for same-sex couples, they focused on recruiting "glamorous non-cognitive…non-intellectual elites" as spokesmen.
Given these trend-lines in a political movement that seems farther and farther detached from any reality shared with the rest of us, is it any wonder that the current frontrunners in the GOP presidential nomination race are reality show star Donald Trump and deranged former brain surgeon Ben Carson? Jeb! is betting that both of them will eventually fade in the eyes of 'ADD voters,' whereupon his awesome 4th grade-level advertising can win over enough 'non-cognitive' voters to win those early primary races. In the meantime, he'll be squabbling with his former protegé Rubio using those talking points that he says he never read.