From the moment his terrorist attack on Planned Parenthood of the Rocky Mountains began last Friday, right wing social media has worked overtime trying to disown Robert Lewis Dear.
Even after he was under arrest and told Colorado Springs police "no more baby parts," a clear reference to the contrived controversy surrounding the organization, denials of culpability continue, especially the stupid ones.
Among the firmest voices trying to shove that responsibility aside are the regular protesters who harass and intimidate people do 'sidewalk counseling' outside that clinic virtually every day of the week.
Dear was not a protester at the Colorado Springs Planned Parenthood clinic, said Joseph Martone Jr., who regularly attends prayer services outside the building on Centennial Boulevard.

Martone said Dear's name was not familiar to members of the Colorado Springs Respect Life group that meets twice weekly for Mass at the Planned Parenthood on the mornings the clinic reportedly does surgical abortions.

"Nobody seems to know him," Martone said.
But within hours of his identification in media, volunteer clinic defenders discovered the above photograph of a man who closely resembles Robert Dear. It was taken on October 11 during an event held as part of '40 Days for Life,' a nationwide protest campaign launched against the family planning organization in the wake of the 'baby parts for cash' hoax.
During the demonstration, the man who resembles Dear was photographed dressed up as a doctor and holding a '40 Days for Life' sign. According to Planned Parenthood Supporters in Colorado Springs, the man paced the sidewalk outside the clinic for thirty minutes to an hour alongside an unidentified female.
Dear is scheduled to be arraigned this afternoon on three counts of first degree murder for the deaths of two civilians and a police officer, none of whom were at the facility to give or receive an abortion. As BU has reported before, patient companions have become new primary targets for the persecution and verbal violence of abortion opponents.
Planned Parenthood Supporters in Colorado Springs say they have turned over all their surveillance photos from the October rally to the police department.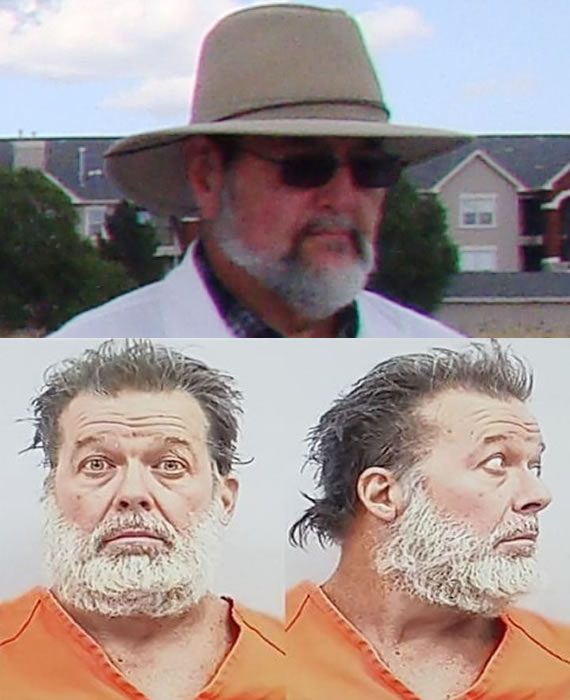 Colorado Springs law enforcement declined to comment for this story. But if investigators determine that Robert Dear did take part in any clinic protests prior to his deadly assault, it would dispel any doubts that he was radicalized against Planned Parenthood specifically by the 'baby parts for cash' smear campaign.
Friends and family of the accused have told the press that while he has held anti-abortion views for a long time, those opinions were more general than specific, and Dear was not deeply invested in the issue when they knew him.
But he moved to Colorado in 2014, so they were unable to observe any changes after the 'baby parts' hoax began.
Concocted by the so-called Center for Medical Progress, which has strong ties to persons convicted of past clinic violence, a series of misleading videos has purported to show Planned Parenthood selling fetal tissues in a ghoulish realization of long-running anti-abortion fantasies.
Acting on that propaganda with utter disregard for truth, zealous Republican politicians across the country have moved to cut off the organization from Medicaid reimbursements for health and wellness services rendered to millions of the poorest women in America. Fortunately, federal courts have universally rejected these measures.
However, the campaign to scandalize and defund Planned Parenthood has persisted despite an embarrassing congressional committee hearing and several investigations by state attorneys general, all of which have found zero evidence of any wrongdoing.
It was perhaps inevitable that the failure of the hoax to gain real traction outside the conservative bubble created by talk radio, blogs, and Fox News would eventually end in bloodshed. Persons whipped into a frenzy, but not trained or indoctrinated into nonviolence, can act out when legal and legislative processes fail to produce the results they demand and expect.
BU will stay on top of this story.