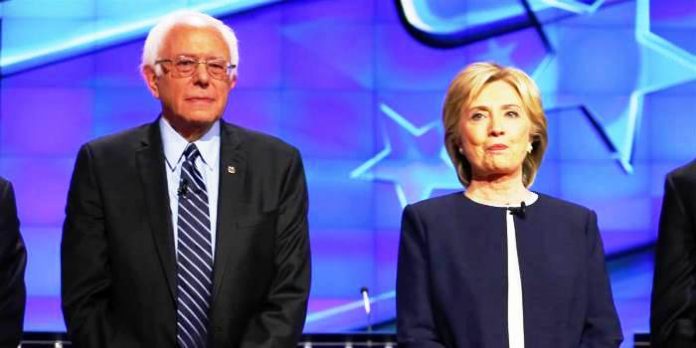 A Change.org petition and an associated website are calling for Democratic presidential front-runner Hillary Clinton to select Sen. Bernie Sanders as vice president in a unity ticket.
Sources who sent BU a link to the petition, and to www.BernieForVicePresident.org, say the effort is a brainchild of experienced progressive activists who want to see the energy and enthusiasm of the Sanders candidacy carried on regardless of whether he wins the nomination.
The website explains:
We always hoped that the whole country would feel the Bern by nominating Bernie to be the presidential candidate. However, after March 15th, it appears that Hillary Clinton will get the nod. So we are here now to loudly say to Hillary and the Democratic Party to keep the revolution going by making this a Clinton/Sanders ticket. That ticket will have the power of a tsunami, and all the tens of millions who support Bernie will be part of the wave. With Bernie at the table, the voices of change and fairness will be heard, and we will have an honest and accountable government.
The organizers are also fundraising at Rally.org.
While Sanders has just completed a run on five caucus states, he must win big in Wisconsin and then New York if he is to have any hope of catching up with Clinton's huge delegate lead or her commanding majority of ballots cast in Democratic primaries so far. Polls show him trailing in both states.
There are few calls yet for Sanders to just concede the Democratic nomination and walk away, but many progressives who see the proverbial writing on the wall are floating ideas for turning his election campaign into a permanent infrastructure.
Entertainment attorney Miles Mogulescu recently outlined his vision for such a transition at Huffington Post. He would have the campaign hold its own parallel meetings in Philadelphia and Washington, DC with the Democratic National Convention and Inauguration Day, respectively.
The organization would be devoted to uniting people across racial, ethnic and gender lines. It would engage both in electoral work and in mass protest politics. It would run people for office at every level from dog catcher, to city council, to state legislatures to Congress — mainly in the Democratic Party except where electoral law makes 3rd party campaigns practical. It would both endorse sympathetic candidates as well as run its own. At the same time, it would organize direct action on the ground for labor rights, civil rights, environmental causes, and against militarism and needless military action.
There are plenty of examples to emulate in the Working Families Party, Democracy For America, and similar organizations. Of course, a Vice President Sanders would not be able to oversee this organizing effort, especially if it would hurt the Democratic Party in the downballot elections where they need to rebuild the most.
So if he is offered the vice presidency, Sanders has a choice: either he can choose to remain in the Senate and build up democratic socialism for the next election cycle, or he can become a key leader in a Democratic Party administration.
Advocates of a Clinton-Sanders unity ticket say that it's needed to harness the enthusiasm of his voters, defeat the Republican nominee, and sweep the GOP from positions of power in Congress in order to enable a more progressive legislative agenda.
Some Clinton supporters are skeptical, pointing to polls showing that her enthusiasm level is actually higher than Sanders's. They reason that most people who vote for Sanders will choose Clinton over the eventual Republican nominee, anyway.
Meanwhile, other names have been touted as potential Clinton VP picks. Sen. Elizabeth Warren is widely considered the gold standard for liberal populism; Bill Scher of Politico has endorsed comedian-in-chief Sen. Al Franken; speaking for the Beltway, Chris Matthews of MSNBC has called for Republican John Kasich to leave the Republican Party and run as Clinton's second.
Here's a poll. In your opinion, if Hillary Clinton wins the nomination, who should she choose for her running mate?
[wpdevart_poll id="8″ theme="0″]