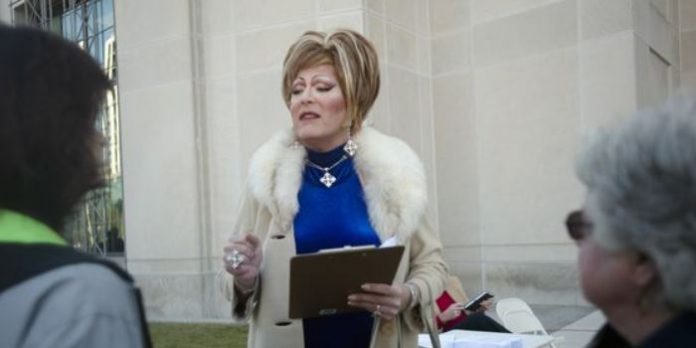 The Heart of Dixie is experiencing the worst government crisis in the nation, with all three branches of government failing simultaneously in the country's grandest display of end-stage conservative governing principles, and all Roy Moore can do is whine about men in dresses.
Well, I'm not the world's most physical guy,
But when she squeezed me tight she nearly broke my spine
Oh my Lola, lo lo lo lo Lola
See how Rachel Maddow covered events last night:
House Speaker Mike Hubbard awaits trial next month for violating his own anti-corruption law, which his lawyers will now argue is unconstitutional. Although the legislature has begun impeachment proceedings against Gov. Robert Bentley, who stands accused of using state resources to conduct a torrid affair with his political adviser, Hubbard would be putting Bentley on trial while he was a witness in Hubbard's trial.
Meanwhile, Bentley's ham-handed efforts to spike the Hubbard indictment, and cover up his affair, have left an inexperienced, if loyal flunky in charge of the state's main law enforcement agency. Morale at state departments has plummeted to new depths; as perpetual budget-cutting has hollowed them out, politics may yet break Alabama government completely.
State Supreme Court Chief Justice Roy Moore became nationally known for installing a graven image of the Ten Commandments in the Alabama Supreme Court rotunda, a display of chauvinism that led to his first removal from office.
Moore has now been suspended from the bench again by the Alabama Judicial Inquiry Commission after a spate of citizen complaints related to the confusion and chaos he created in courthouses across the state with his rear-guard, administrative fight against marriage equality.
Many of those ethics complaints were written and notarized during a January rally against Moore that was held on the front steps of the Supreme Court building in Montgomery. At the end of the event, which featured a diverse panel of speakers, a same-sex couple exchanged marriage vows. Meanwhile, volunteers worked a table helping Alabamians fill out the necessary paperwork to file an ethics complaint against Moore.
Announced on Friday, the decision drew angry reactions from Moore, who denounced the event at a press conference with Mat Staver, lawyer for anti-LGBT Kentucky clerk Kim Davis. Moore was especially critical of the event emcee, a local drag queen named Ambrosia Starling. Denouncing her as a "transvestite," he sought to discredit the ethics charges by suggesting she and other participants were mentally ill.
But if Moore thought that Starling would be an easy target for smears, he was wrong. So very, very wrong.
"Every bully always picks on the weakest kid in the room, and he thought that was going to be the drag queen," Starling said Saturday. "A lot of people make that mistake."

[…] "I am crazy for democracy," Starling said. "I'm insane for civil rights and better behavior. I am out of my mind when I see people losing their manners and disrespecting people they don't know."

For Starling, manners are important — something her grandmother taught her when she was a child. Manners are free, she said, and a lack of manners is what causes every war.

"Manners is a lot more than 'please' and 'thank you' and what fork you use at a fancy dinner," she said. "At the core of it all, manners is about respecting each other, in any society, in any country."
Indeed, Moore seems rather uneasy about Starling. A powerful, fearless woman standing most of seven feet in high heels, and who packs a verbal punch in her evening gown, clearly terrifies him too much for basic courtesy.