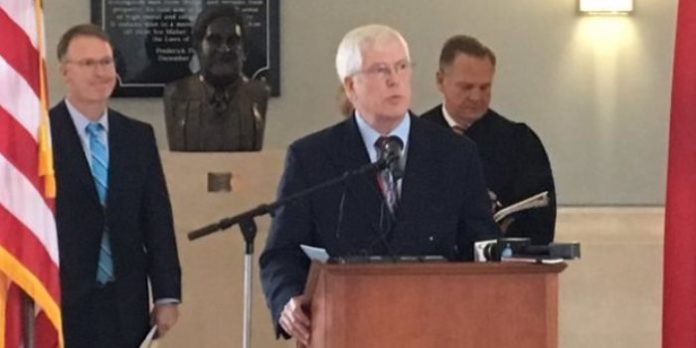 Mat Staver, attorney, founder, and chairman of the anti-LGBT legal group Liberty Counsel, which represented infamous Kentucky county clerk Kim Davis and stands behind the current rash of anti-trans 'bathroom bills,' is suing the Alabama Judicial Inquiry Commission (JIC) in federal court hoping to restore homophobic judge Roy Moore to power.
Moore was suspended as Chief Justice of the Alabama Supreme Court three weeks ago in response to citizen ethics complaints. It is the second time that the JIC has deposed Moore from the highest seat on the state's highest bench.
In 2003, Moore was suspended and ultimately removed after defying federal court orders to relocate his multi-ton granite monument of the Ten Commandments from the lobby of the supreme court building in Montgomery.
This time, Moore is in trouble for an administrative order to probate judges. Attempting to fight a rear-guard action against marriage equality, Moore contradicted the United States Supreme Court's Obergefell decision.
But Staver says the entire procedure is unlawful because:
"The JIC has no jurisdiction over an Administrative Order of the Chief Justice. Only the Alabama Supreme Court has jurisdiction, and that court agreed with the order.

"We are asking the federal court to strike down the automatic removal provision in the Alabama State Constitution and we are asking that Chief Justice Moore be immediately reinstated."
Staver's argument — that a federal court should restore a judge to office whilst he is being removed for defiance of federal courts — is unlikely to find a receptive audience anywhere on the federal bench.
Indeed, Liberty Counsel has produced far more fluff than substance, using legalese and disingenuous nonsense to pad out their complaint beyond 'two guys kissing makes us puke.'
Staver proposes that the JIC "lacks authority to render legal opinions when it disagrees with a judge's interpretation of the law." That's a spurious argument because the Commission is not re-litigating Obergefell. Rather, the JIC is responding to the complaints of citizens who were impacted by the chaos Moore created with his order.
Liberty Counsel also argues that the JIC was supposed to keep their investigation confidential until formal charges were made. But that's exactly what the JIC did. Having received ethics complaints against Moore, JIC said absolutely nothing about any investigation until they announced the charge in a Friday news dump.
No date has been set for Moore's trial yet.
Moore first became prominent in the state — and popular with right wing religious fanatics — when the American Civil Liberties Union sued to remove his wooden idol of the Ten Commandments from the Etowah County circuit court.
Thereafter, Moore became a culture war hero to conservative evangelicals, who concentrated their national political strength to support his first campaign for Chief Justice. Moore was also buoyed by Karl Rove's signature campaign to take over the Alabama supreme court on behalf of corporate interests.
Upon being sworn into office in 2001, among Moore's first acts in office was the installation of the graven image which resulted in his removal.
Reelected in 2012, Moore has once again rejected the charges against him, denouncing the citizens who filed complaints instead of answering their grievances.
"This is not about religion," Moore said in a testy press conference after the JIC's announcement. "This is about my marriage and my legal orders."
Get that? It's all about him.
Staver stood beside Moore and spoke for him during that press conference.
Mat Staver represented Kentucky clerk Kim Davis, now represents Roy Moore @wsfa12news pic.twitter.com/A9P0y2eqOv

— Kacey Drescher (@KaceyD_WSFA) April 27, 2016
A recent CBS News investigation found that Liberty Counsel, the group Staver heads, has an outside role in the ongoing outbreak of transphobic state legislation.
Besides hating on trans persons and representing Kim Davis in her delusional bid to defy the United States Supreme Court, the organization also has a well-documented record of slanders, outright fabrications, and paranoid hyperventilation.
Who better to represent Roy Moore?