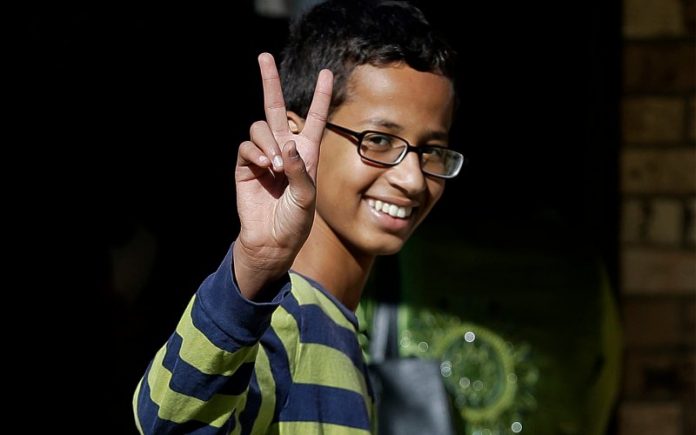 Ahmed Mohamed aka "Clockboy" Filed a 15 Million Dollar Lawsuit against the school that had him arrested for bringing a homemade clock to school for show and tell. We wrote about him here. The family, which moved to Qatar after the incident happened, has so far been unable to find employment while there. Ahmed, who recently came back to the US to spend time with friends, claims that he now has to wear a hoody and is very afraid to go out because he feels he will be shot. From the LA Times story:
"For the safety of my family, I have to go back to Qatar, because right now it's not very safe for my family or for anyone who's a minority," Ahmed said during Monday's news conference.

While in Texas, Ahmed said, he has to wear a hat, sunglasses and a hoody. "I can't walk out of the house without being covered up because I might get shot because that happens here," he said.

The teen's parents, Mohamed Elhassan Mohamed and Muna Ibrahim, have not found work yet in Qatar, so the family of eight is living in government housing and on food vouchers.

Among the claims made in the suit, which was brought by the teen's father, is that the boy's right to equal protection under the law was violated and that officers arrested him without probable cause.

Ahmed was a victim of systemic discrimination by the school district and state Board of Education that has marginalized Muslims and other minority groups, the suit claims.

"History tells us that when we have stood tall and proud for equality and freedom, we have grown as a nation," the suit says. "When we have given in to fear and hate, we flounder."

The suit adds, "In the case of Ahmed Mohamed, we have the opportunity to take a stand for equality and for justice, two things that should prevail above all else."

The Irving school district is also under investigation by the U.S. Department of Justice over accusations of a pattern of discrimination against minority students.
It has been alleged that the entire episode was a scam for money because the parents knew that the school had a hard on for minority students. And Ahmed had already had some trouble in that department while at school. It was also no secret that Ahmed sought out massive media attention when the story went viral. He was in fact gloating over his sudden new found fame instead of trying to play down the media attention. Now that a suit has been filed the situation becomes more clear, "its about the dollars," and it probably has always been about the dollars.
From thedailybeast last year:
Since Mohamed's story went viral, his family has held national attention, and the Council on American-Islamic Relations has helped facilitate their media coverage.
"He just wants to invent good things for mankind," Ahmed's father, Mohamed Elhassan Mohamed, told The Dallas Morning News after his son's arrest. "But because his name is Mohamed and because of Sept. 11, I think my son got mistreated."
Mohamed's official Twitter account shows tour and event offers from Google, MIT, and Twitter and a scholarship to Space Camp. In one September 16 post, which includes a beaming selfie of Mohamed and two allies, the teen wrote: "Going to meet my lawyer."

It's been enough for conservative websites like Breitbart to all but fuel conspiracy theories on Mohamed's meteoric rise and his father's history as an anti-Islamophobia gadfly who twice ran for president of Sudan. Infowars was less restrained with its headline: "Fake hate? Is clock kid furor all a big setup?"
There were other articles out at the time which showed that Ahmed was a savvy media whore, and that he sought out publicity and interviews wherever he could and was loving every minute of it. Now however he's suddenly afraid of the attention because you know he could be shot.
However, after the noise died down and the family moved out of the country, there haven't been anymore so called "inventions" from Clockboy, showing once and for all that he wasn't really an inventor, and that it was probably all about the money and fame in the end. Sorry to those who will feel this post is unjustified, but all along I've felt this was nothing but an elaborate hoax to gain fame and money, and this lawsuit now shows this to be a fact.