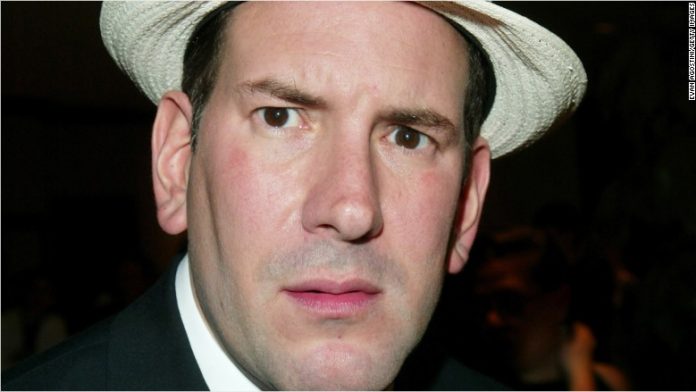 What the hell is up with Matt Drudge of DrudgeReport these days? Some of his links look straight outa some horror movie passed along as actual news. Today was no different than any other day I guess, except to say that Drudge was particularly interested in exorcisms and the Catholic church, demonic possessions, Jesus is still alive memes, and vampires sleeping in coffins and drinking blood. This is the state of Journalism today I guess. Or at least what right wingers are actually interested in reading.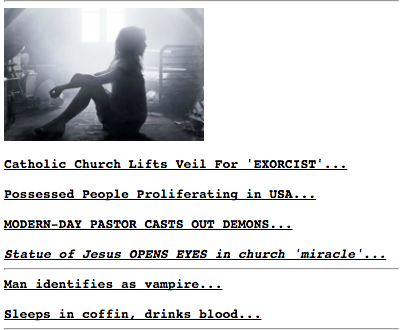 As for the Catholic church lifting any veils on exorcists, that story wasn't true at all. The story that was presented was for the new TV show about Exorcists. However, the producers were unable to obtain anyone from the Catholic church to talk to them about exorcists. Later on some anonymously sourced Priest from Chicago supposedly opened up to the producers and told them why exorcists remain hidden from view. The one glaring clickbait in this Drudge link was that "possessed people are proliferating in the USA." As if to say demons are growing in the USA in vast numbers. But looking at what was said shows a different meme.
Wyatt went on to say that there are a lot of people who are actually suffering from alcoholism, schizophrenia and other psychological illnesses whose families mistakenly believe that they are possessed.

The priest — who claimed to have never performed an exorcism himself but failed to convince the Exorcist producers as much ("We kind of thought that wasn't true, because he knew a lot about it," insisted Wyatt) — also told the team that exorcists have proliferated through the United States in recent years. Two decades ago, there was only a small fraction of priests practicing exorcisms, but the man claimed that number has "grown exponentially" in the last few years "for a number of different reasons" — reasons that Wyatt didn't specifically get into during the panel.
So what this anonymous and totally unidentified source said was that exorcists have proliferated in the US. And probably because drugs and alcoholism and mental illness have increased in the US. And some people, the religiously inclined I'll bet, probably feel that their problems are demonic possessions instead of real world issues such as mental illness.
The other story link was from a WND article showing Pastor Karl Payne, who gravitates towards speaking about demonic possessions, and posits that driving down the road one can get messages from demons to go eat at Outback Steakhouse, or even worse, stopping down the road for a coke because the demons had posted billboards along the path, and those billboards were causing subliminal demonic thoughts to the heads of those that see it. Thus they were probably possessed by demons to eat or drink along the way, because demons made them think it.
The next story was a video (click bait like a mofo) showing some Jesus statue in Mexico actually opening his eyes. Yet the video was focused completely on the statue as if the videographer knew what was going to happen next. However, the video was blurred out, and at the end the video was quickly cut, then another video magically appeared, and this video showed a completely different video closeup purporting to be the same video earlier, which it clearly wasn't. Its such a clickbait fake video that anyone with half a brain can see exactly what it is, totally faked. Yet Drudge thinks this is important news. Here is where the article shows how fake it is:
According to Elancasti.com.ar , the footage was shot last June, but it quickly went viral after it was posted on Adimensional this week – a web portal that researches unusual and paranormal cases.
The next link was some stupid clickbait link that has numerous pop-under ads that talks about a 25 year old who considers himself a vampire. Yeah, Goth is as Goth does. But that's the only point made.
The 25-year-old said: "I went into the pub with two mates and a lad piped up and asked if I was abused as a child when I was young because of the way I look.

"I felt so ashamed and embarrassed that I would get asked such a personal question based on my choice of lifestyle.

"Everyone has their beliefs and I don't believe I should be persecuted for following mine.

"It's this kind of behaviour that cost the life of Sophie Lancaster in Bacup in 2007.

"I might be a vampire but I just want to be treated like everyone else.
He's just a vampire folks, he wants to be treated like everyone else. The point here is that Drudge often links to the worst portions of the web that he considers newsworthy. Yet for all intents and purposes these few stories show how low rent DrudgeReport actually is. When you have to sink to the bottom of the pile just to get some traffic, well, that's pretty bad indeed.
So the next time you end up reading a story on DrudgeReport about Hillary Clinton, just remember, Matt Drudge has a demon fixation, and maybe its alcoholism or mental illness or schizophrenia, or maybe he just likes clickbait crap disguised as news.