Is there anything more fun than attending a Trump rally?
We're guessing that 69 year old Shirley Teeter didn't really enjoy having her face at the end of a Trump supporter's fist.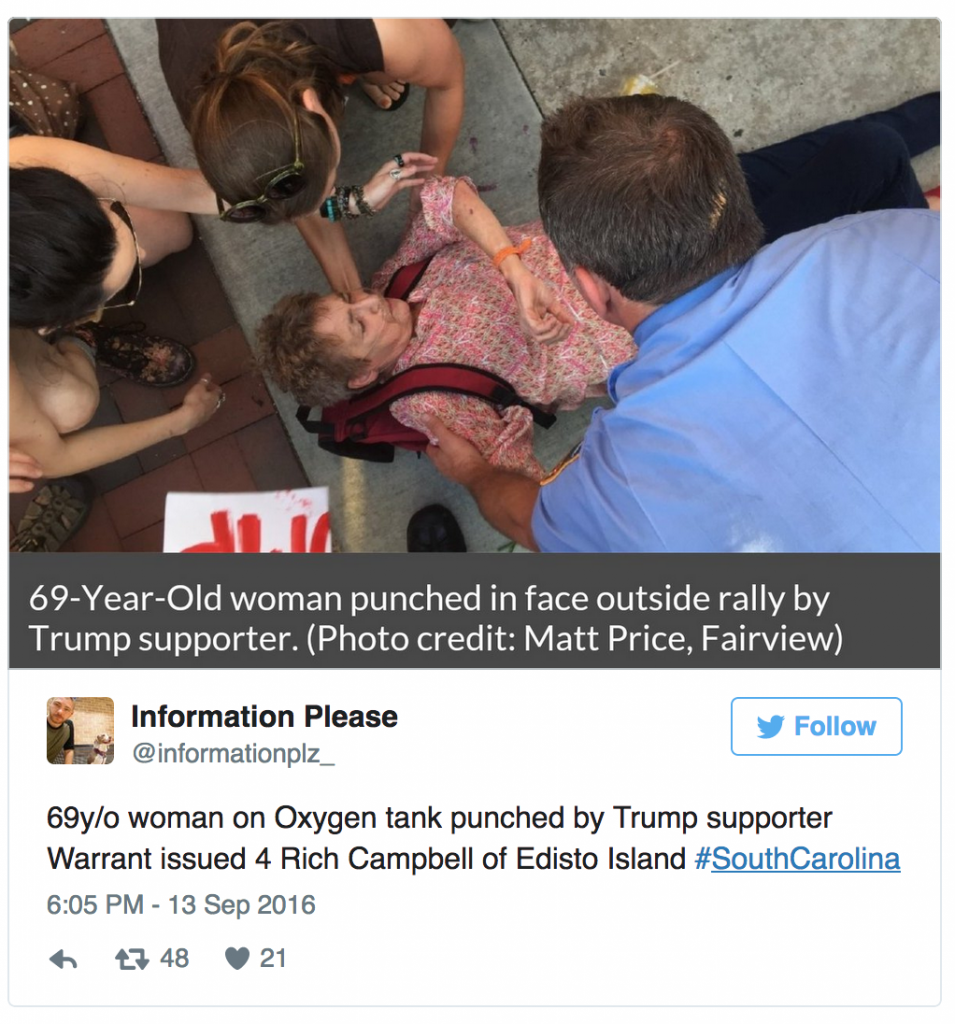 According to a report on Talking Points Memo:
69 year old Shirley Teeter, who wears an oxygen mask and lugs around a tank to support it, was protesting outside a Trump rally in North Carolina when a feral Trump turned on her and punched her right in the face. Cold-cocked her, as Shirley put it.
North Carolina TV station WLOS had more details.
After the rally, Teter experienced something she had never seen in all of her protests. Peace teetered over into something else.

"I said, 'You better learn to speak Russian,' and I said, 'The first two words are going to be ha ha.' He stopped in his tracks, and he turned around and just cold-cocked me," Teter said.

She was punched in the face.

She says she fell on her oxygen tank and has sore ribs, a sore jaw, and cut her elbow. She later went to the hospital and is thankful she did not break any bones.

Police say they arrested five people at Donald Trump's rally Monday night in Asheville, and as of publishing have warrants out for two more people. A warrant has been issued for the arrest of Richard Campbell of Edisto Island, South Carolina, who allegedly fed Ms. Teeter the unwanted knuckle sandwich.
The line of the night has to go to the resilient Ms. Teeter.
She asks if people find a Trump supporter punching her in the face deplorable.
We suggest that this thuggish, "brownshirt" style of thuggery will become all the rage (pun intended) as "the Deplorables" lunge out at those who find their hatred "deplorable."