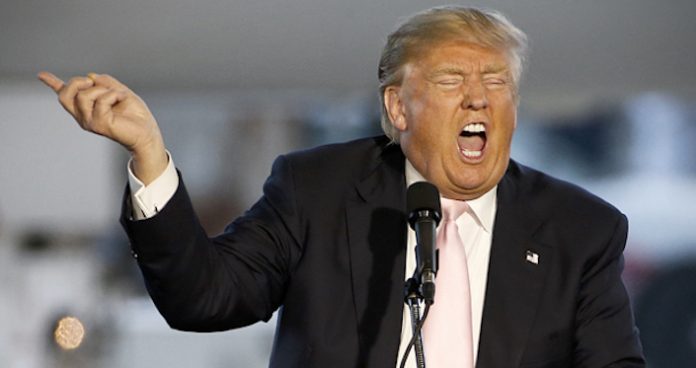 It just gets worse. Now, People Magazine has published a thoroughly vetted, cleared by the legal department story about how in December 2005, one of its reporters found herself plastered against a wall with Donald Trump's tongue down her throat.
We walked into that room alone, and Trump shut the door behind us. I turned around, and within seconds, he was pushing me against the wall, and forcing his tongue down my throat.

Now, I'm a tall, strapping girl who grew up wrestling two giant brothers. I even once sparred with Mike Tyson. It takes a lot to push me. But Trump is much bigger—a looming figure—and he was fast, taking me by surprise, and throwing me off balance.

I was stunned. And I was grateful when Trump's longtime butler burst into the room a minute later, as I tried to unpin myself.

The butler informed us that Melania would be down momentarily, and it was time to resume the interview.
Trump wasn't finished yet, according to People reporter Natasha Stoynoff.
I tried to act normal. I had a job to do, and I was determined to do it. I sat in a chair that faced Trump, who waited for his wife on a loveseat. The butler left us, and I fumbled with my tape recorder. Trump smiled and leaned forward.

"You know we're going to have an affair, don't you?" he declared, in the same confident tone he uses when he says he's going to make America great again. "Have you ever been to Peter Luger's for steaks? I'll take you. We're going to have an affair, I'm telling you." He also referenced the infamous cover of the New York Post during his affair with Marla Maples. "You remember," he said. "Best Sex I Ever Had."
This is the man that toothless, inbred, slack-jawed "second amendment people" are threatening to take our country to a second Civil War over. They won't believe these stories. They CAN'T believe these stories.
Mr. Trump told them not to.
And he's gonna make America GREAT again.