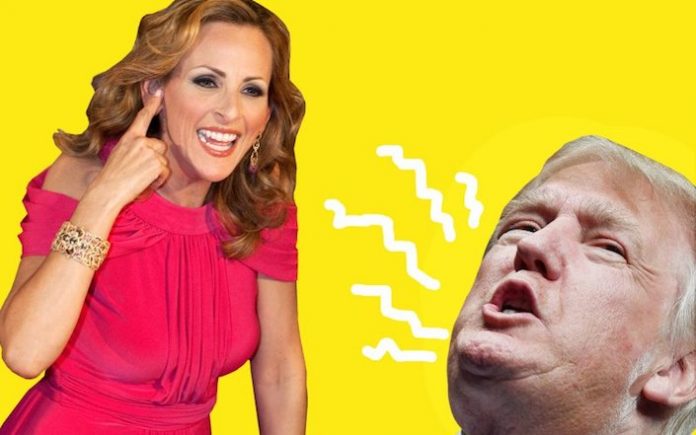 The man is a pig. And that is being unkind to pigs.
We all know the wonderful actress Marlee Maitlin. Personally, I recall a couple turns she did as a "death with dignity" advocate on Law and Order SVU. She's a terrific performer who won the Oscar for Best Actress in a Leading Role for "Children of a Lesser God" in 1986.
During Ms. Maitlin's stint on "The Apprentice" in 2011, Donald Trump mocked her disability by mimicking her voice and wondering if she was "retarded," according to a report in The Daily Beast.
Three sources have confirmed to the Daily Beast that Trump would regularly disrespect the actress and would even treat her as if she were mentally disabled.

During the taping of the show, Trump would often scribble down notes while sitting at the table of "the boardroom"—the show's primary set. A person familiar with the notes who helped clean up after tapings said that on one of the pieces of paper, Trump wrote: "Marlee, is she retarded??"
"He would write notes on his blotter, his papers in front of him, and he would scribble notes in it," a source described. "It was usually just asinine things on them."
Every day one thinks Trump has hit bottom, the depths of his sickness prove to be barely examined.
"[Trump] would make fun of her voice. It actually sounded a lot like what he did [to] the New York Times guy," another person who worked on The Apprentice for years told The Daily Beast, referring to when Trump mocked a disabled reporter last year. The source said this incident occurred outside the boardroom, during a break from filming. "Like, to make it seem like she was mentally not there? [It] sounded like he got a real kick out of it. It was really upsetting."
Maitlin would not comment for the Daily Beast story. Her relationship with Trump post-Apprentice is somewhat telling.
Long before she appeared on Celebrity Apprentice, Matlin snagged the honor of becoming the first deaf actor or actress to win an acting Academy Award for her role in 1986's Children of a Lesser God. She has appeared on various TV series including in a recurring role on Aaron Sorkin's The West Wing. In 2011, she, alongside Snoop Dogg and Larry King, participated in the 2011 Comedy Central roast of Trump. (Matlin made a number of penis-related jokes at Trump's expense during that broadcast.)
What next?