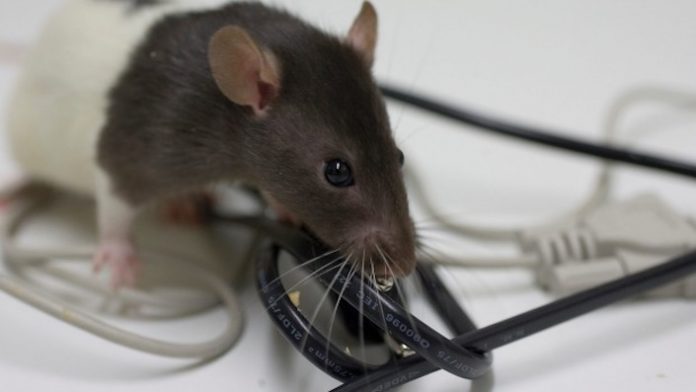 Actually, the culprit that is currently keeping you from tweeting on Twitter or spotting something on Spotify is a massive (and we mean MASSIVE) distributed denial-of-service attack on a New Hampshire-based, Dyn, which said its server infrastructure was hit by the attack early Friday.
Dyn provides internet traffic management and optimization services to some of the biggest names on the web, including Twitter, Netflix and Visa.
Thank goodness DYN had everything back to normal by 9:30 am EDT.
For a little while, anyway. At around noon. Eastern time, Dyn again said it was experiencing such an attack. Around 2 p.m., Dyn said it was investigating and mitigating "several attacks."

Dyn has since been less-than-clear about how long it will take to get to the bottom of the problem.
WAS THIS MENTIONED IN THE BOOK OF REVELATIONS?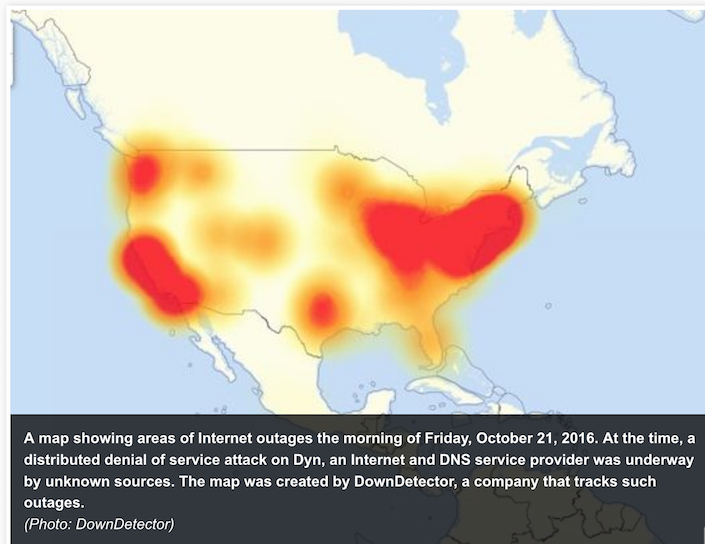 Probably not. But some tech experts say this may be the first shot in a long and damaging cyberwar.
According to William Turton at Gizmodo, today's attack is the beginning of a bleak future.
This morning a ton of websites and services, including Spotify and Twitter, were unreachable because of a distributed denial of service (DDoS) attack on Dyn, a major DNS provider. Details of how the attack happened remain vague, but one thing seems certain. Our internet is frightfully fragile in the face of increasingly sophisticated hacks.

Some think the attack was a political conspiracy, like an attempt to take down the internet so that people wouldn't be able to read the leaked Clinton emails on Wikileaks. Others think it's the usual Russian assault. No matter who did it, we should expect incidents like this to get worse in the future. While DDoS attacks used to be a pretty weak threat, we're entering a new era.
Fusion published what must be assumed to be a partial list of sites affected by this massive DDoS attack.
ActBlue
Basecamp
Big cartel
Box
Business Insider
CNN
Cleveland.com
Etsy
Github
Grubhub
Guardian.co.uk
HBO Now
Iheart.com (iHeartRadio)
Imgur
Intercom
Intercom.com
Okta
PayPal
People.com
Pinterest
Playstation Network
Recode
Reddit
Seamless
Spotify
Squarespace Customer Sites
Starbucks rewards/gift cards
Storify.com
The Verge
Twillo
Twitter
Urbandictionary.com (lol)
Weebly
Wired.com
Wix Customer Sites
Yammer
Yelp
Zendesk.com
Zoho CRM
Credit Karma
Eventbrite
Netflix
NHL.com
Fox News
Disqus
Shopify
Soundcloud
Atom.io
Ancersty.com
ConstantContact
Indeed.com
New York Times
Weather.com
WSJ.com
time.com
xbox.com
dailynews.com
Wikia
donorschoose.org
Wufoo.com
Genonebiology.com
BBC
Elder Scrolls Online
Eve Online
PagerDuty
Kayak
youneedabudget.com
Speed Test
Freshbooks
Braintree
Blue Host
Qualtrics
SBNation
Salsify.com
Zillow.com
nimbleschedule.com
Vox.com
Livestream.com
IndieGoGo
Fortune
CNBC.com
FT.com
Survey Monkey
Paragon Game
Runescape
With no clue as to how long it will take to get things up and running today, be grateful that your TV is still working. If you don't have a TV, we understand there were these devices that were quite popular in the previous century. They were known as "books."