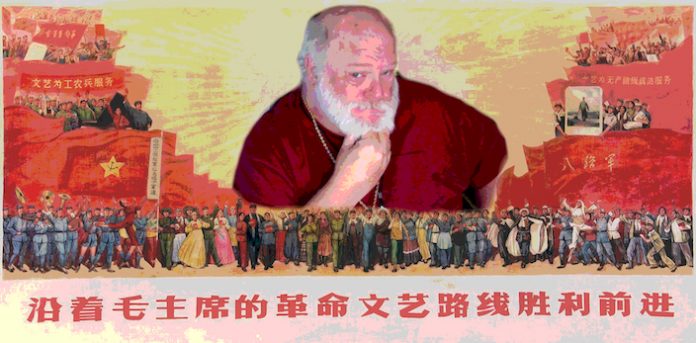 Our publisher is a cruel task master. His craggy face carries the scars of many battles. Wounded by sword and arrow, he is not a General to be taken lightly, and many nights our camps have been illuminated by the impaled, burning bodies of our enemies.
Yet, he has a sentimental side. He likes music.
So you look into the eyes (or, eye…) of our mighty publisher when he seeks a boon and tell him no. You can't do it. You just can't. At least, you'd better not.
So, by Imperial fiat, here are a few of his favorites (and they'd better be yours, too) that I have written, produced and performed over the recent years. You can show your appreciation by not murdering me or, if you are so inclined, by kicking into my Tip Jar.
FTG – by Stogie Carbuncle, featuring Grand Wizard AW
GRAB HER BY THE P—Y – by Stogie Carbuncle, featuring Tangerine Trump
YOU LOST A BILLION DOLLARS – by Stogie Carbuncle
SMILE, HILLARY! – by Stogie Carbuncle
BLACK AND/OR BLUE – by Stogie Carbuncle
HANG DOWN YOUR HEAD CHRIS CHRISTIE – by the Carbuncle Trio
(THOUGH I COULD NEVER KILL YOU) I'LL BE HAPPY WHEN YOU DIE – Stogie Carbuncle
YOU WERE READY (Requiem for Gail) – by Stogie Carbuncle
DO YOU HEAR THE WHITE FOLKS SING – (Parody of Les Miserables)
GOD BLESS OLD HOGGY — by Stogie Carbuncle
I ENJOY GROPING A BROAD – by The Fat Man
I KNOW WHAT BABES LIKE – by The Fat Man
ORANGEFINGER – by The Fat Man