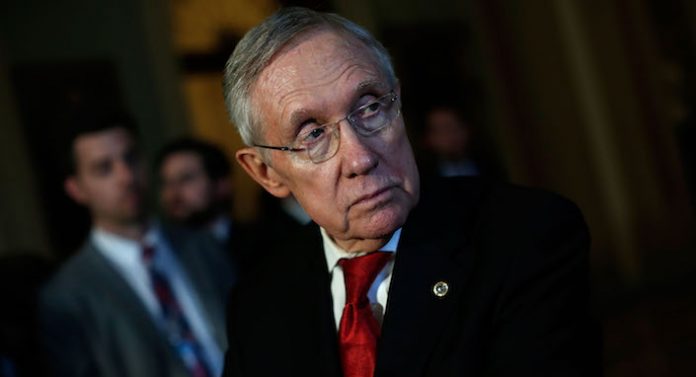 SAYS COMEY SITTING ON PROOF OF TRUMP/PUTIN COLLABORATION
Outgoing Senate Minority Leader Harry Reid (D-NV) had a lot of things to say to FBI Director James Comey in a letter made public today, and none of them was "Happy Halloween."
The feisty former boxer from Nevada let it be known that past discussions with Comey have made it clear that Comey "…posses(es) explosive information about close ties and coordination between Donald Trump, his top advisors, and the Russian government – a foreign interest openly hostile to the United States, which Trump praises at every opportunity."

Senator Reid is not happy with this state of affairs. Not even a little bit. In fact, Sen. Reid feels Director Comey may find himself embroiled in a bit of a legal problem with something every federal employee knows as "The Hatch Act."

It wasn't clear from the letter if Reid was specifically accusing Comey of a Hatch Act violation, which could result in Comey's removal from office. That position is supported by former Bush White House ethics lawyer, Richard Painter in a New York Times op ed today.
Absent extraordinary circumstances that might justify it, a public communication about a pending F.B.I. investigation involving a candidate that is made on the eve of an election is thus very likely to be a violation of the Hatch Act and a misuse of an official position. Serious questions also arise under lawyers' professional conduct rules that require prosecutors to avoid excessive publicity and unnecessary statements that could cause public condemnation even of people who have been accused of a crime, not to mention people like Mrs. Clinton, who have never been charged with a crime.

This is no trivial matter. We cannot allow F.B.I. or Justice Department officials to unnecessarily publicize pending investigations concerning candidates of either party while an election is underway. That is an abuse of power. Allowing such a precedent to stand will invite more, and even worse, abuses of power in the future.
Adding to the overall stench emanating from the J. Edgar Hoover building is the revelation that these newly-revealed emails on Clinton aide Huma Abedin's laptop are not exactly newly-revealed.
A law enforcement official says FBI investigators in the Anthony Weiner sexting probe knew for weeks about the existence of newly discovered emails that might be relevant to the Hillary Clinton email investigation.

FBI Director James Comey said he was briefed Thursday about that development; he told Congress on Friday that investigators had found emails that were potentially relevant to the Clinton investigation.

The emails were found on a device that belonged to Weiner, the estranged husband of close Clinton aide Huma Abedin.

The official was not authorized to discuss the matter by name and spoke on condition of anonymity.
Then, factor in the fact that despite Comey's bizarre announcement on Friday, despite the agency being aware of the existence of the emails for weeks, it wasn't until Sunday that the FBI finally obtained a warrant to view the emails.
However this matter gets resolved, one thing is certain. This final week leading to the 2016 General Election is going to be a spectacle that will make a 30-man battle WWE royale look like a little girls' tea party.
Besides. Harry Reid is mad as hell.