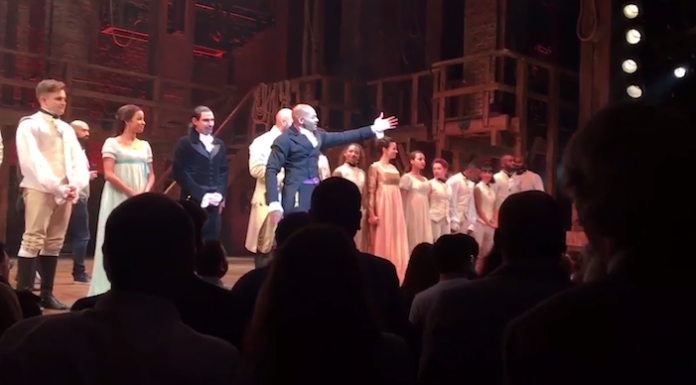 Outraged that his Vice President-elect should be gently lectured by the long-dead third Vice President of the United States (who wasn't even remotely black in real life, fer chrissakes) President-Elect Donald Trump has fired up the official State Twitter Thingie to demand that the cast of the hit Broadway musical "Hamilton" apologize to Vice President-elect Mike Pence.
"Cameras blazing!" Does the theater Fire Marshall allow flaming cameras into crowded, small spaces? Be that as it may, the Washington Post reports that after Friday evening's performance, at which Vice President-elect Mike Pence was in the audience, several dozen of the Broadway musical's cast members zeroed in on Pence during their curtain call. Brandon Victor Dixon — the actor who played Aaron Burr — stepped forth and cut through the applause.
"You know, we have a guest in the audience this evening," he said to audience laughter. "And Vice President-elect Pence, I see you walking out, but I hope you will hear us just a few more moments. There's nothing to boo here, ladies and gentlemen. There's nothing to boo here. We're all here sharing a story of love. We have a message for you, sir. We hope that you will hear us out."

As he pulled a small piece of paper from his pocket, Dixon encouraged people to record and share what he was about to say "because this message needs to be spread far and wide."

"Vice President-elect Pence, we welcome you, and we truly thank you for joining us here at 'Hamilton: An American Musical.' We really do," Dixon said to further applause. "We, sir, we are the diverse America who are alarmed and anxious that your new administration will not protect us, our planet, our children, our parents, or defend us and uphold our inalienable rights, sir. But we truly hope this show has inspired you to uphold our American values and work on behalf of all of us. All of us. Again, we truly thank you truly for (sharing) this show, this wonderful American story told by a diverse group of men and women of different colors, creeds and orientations."
Pence has been a vociferous opponent of LGBTQ rights.
He has a "0%" rating from the Human Rights Campaign, a nonprofit group that calls Pence "notoriously anti-LGBTQ" when he was chosen to be Trump's running mate. Republican Chrys Kefalas outlined Pence's anti-LGBT record in a guest column for The Washington Post:
During his public career, Pence has been an outspoken opponent of equal rights for lesbian, gay, bisexual and transgender citizens. In Congress, he opposed efforts to encourage foreign governments to decriminalize homosexuality and sought to block the repeal of the military's "don't ask, don't tell" policy. As a governor, he stood against not only marriage equality, but civil unions as well. He also opposed a law prohibiting discrimination against LGBT people in the workplace and signed one opening the door to wide-ranging discrimination against these residents of his own state under the guise of religious liberty.
None of this was lost on the audience, who greeted Pence's arrival to his prime orchestra seat with a mix of cheers and boos, according to the AP.
The really sad thing about this episode, it forced Trump to have to interrupt his tweets of lament over being elected to the presidency, which forced him — in the interest of time — to have to settle the three lawsuits filed against him related to the fraudulent Trump University.
Remember. This man is about to become President of the United States of America.
Too bad, indeed.