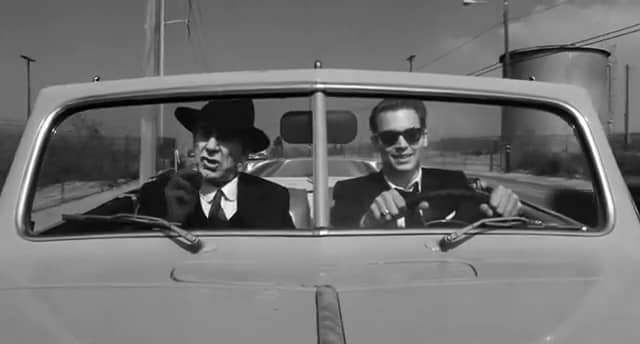 It has come to my attention that a certain cretinous Trump supporting right wingnut who calls himself William John Joseph Hoge, who runs the internet blog Hogewash.com, a pitiful two bit website full of right wing extremist stalkers and deviants, who has also been adjudicated by Former Circuit Court Judge Creighton as a CHILD ABUSER (see video below), and by another Maryland Circuit Court Judge to be an UNRELIABLE witness while being questioned on the witness stand, has now decided to threaten this website and one of its Editors with litigation over opinions and posts he has recently made. Mr. Hoge has threatened this website with a "better remove xyz post by noon today or else" post on his shitty little website.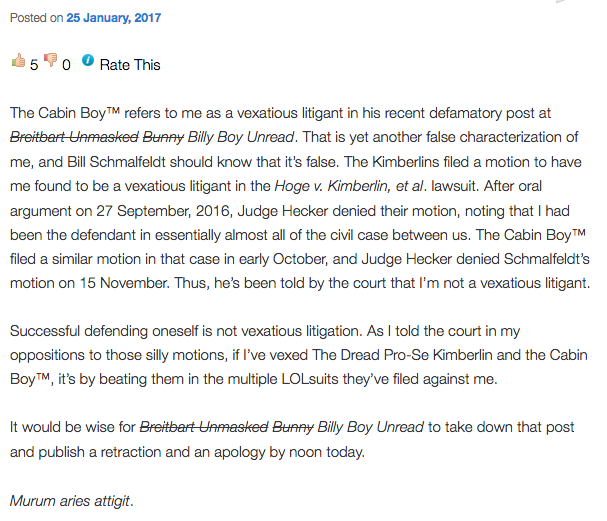 Let me respond to that horseshit right now Mr Hoge.
You DO NOT run this website.
You DO NOT inspire fear at this website with your lunatic fringe postings and various obsessions and demands to do this or do that or else, some of which have been noted as sexual in nature by other like minded individuals that I have heard from.
You DO NOT tell this website or its Editors what to do or what to post.
You DO NOT tell anyone here or elsewhere in our orbit what to do. We don't give two flying fucks for you or your right wing extremist ilk, most of which are convicted felons or former fraudsters or identity thieves.
We will not be threatened by a known vexatious litigant who has for close to 4 years filed hundreds of criminal and civil charges and counter charges against two people, one of which is our esteemed Editor here, and which you are obsessed with discussing on a daily basis. Note, VEXATIOUS LITIGANT IS AN OPINION THAT I AND MANY OTHERS CLAIM YOU ARE. We DO NOT need a court determination to think this, and we can say or think or publish OUR OPINIONS any fucking time we want you fucked up lunatic. And after years of filing hundreds and hundreds and hundreds of civil and criminal charges against the objects of what I BELIEVE are your sexual deviant desires, and failing at each and every one of them, its high fucking time we call you out as what we THINK AND BELIEVE you are. And, we shall now do so you miserable low life bearded POND SCUM. And we shall have NO FEAR WHATSOEVER over how you feel about it or what the fuck you do about it. WE DO NOT CARE, GET IT??? WE DO NOT CARE!!
You can file whatever the fuck you please in your shitty little town and we give TWO FUCKS LESS, you piece of living crawling shit on my shoes, what the fuck you do or where you do it at. And you can take this post to your shitty little court and whine like a baby over whatever post you want to whine over, and claim you are a little tiny crying fucking baby victim and do so at your pleasure. But at the end of the day you worthless excuse for human slime and filth, this is the 1st Amendment motherfucker, and we here at this fucking website, whether you think it is read or not, practice that every fucking day you fucking bearded mother fucking wannabe child abusing (as noted by former Maryland Circuit Court Judge Creighton) piece of shit.
And get this straight you fucking low life dog, we have made a special place here at BU for you. Its called HOGEWATCH, and it is going to discuss you and your ilk whenever the fuck we feel like it, and we will give all of two fucks less what you whine about over it you scurrilous fucking two bit clown. And guess what else, you can take that down to your local bank and fucking cash it motherfucker. Enjoy your infamy you sick piece of dog shit, because we are going to make a special effort here to document and add SUNSHINE to your nest of sick twisted right wing convicted felons and useless wanna be internet scumbags and child abusing sexual deviants.
Now fuck off and die you blithering fucking idiot. Yes, I said fuck off and die. And yes, I can't wait until you are fucking dead so I can personally go piss on your shitty little right wing headstone. And OLD MAN, when you finally do kick the bucket, expect piss raining on your broken down headstone on a daily basis you fucked up piece of shit. Yeah, we don't like right wingers here, matter of fact we fucking hate them with a passion. And you are one of the ones we've hated for a very long time. So gather up your paperwork motherfucker, for we DO NOT CARE what the fuck you do. And as I said, you can take that down to your local bank and CASH IT, or, better yet, you can shove it up up your worn out pink pussy ass.
In other words wingnut, FUCK YOU AND THAT FUCKED UP RIGHT WINGNUT HORSE YOU THINK YOU RODE IN ON. NO ONE GIVES TWO FUCKS FOR YOU OR BELA…
End of Message.