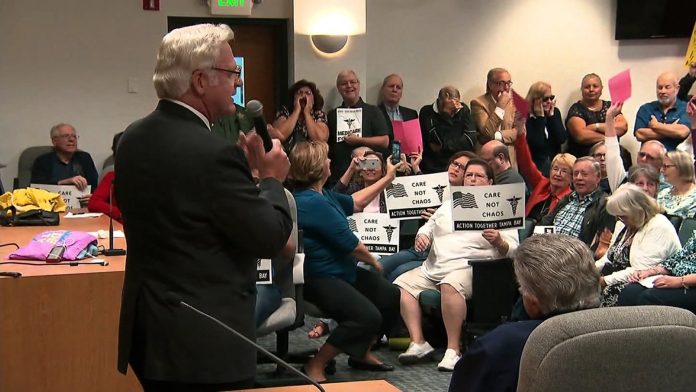 In  riotous townhall meeting in Florida, Pasco County Secretary Bill Akins told the audience that if you are over 74 years old and have a health issue, you have to submit to a death panel before you are approved for medical procedures. The crowd erupted in boos screams and shouts showing Akins to be nothing more than a liar. He then has the AUDACITY to call the seniors at the meeting "CHILDREN" as if they are children for calling him out on his BLATANT LIES.
WATCH: At Congressman @RepGusBilirakis town hall – County GOP Chairman Bill Akins refers to adults as "children" when they fact check him. pic.twitter.com/RcaOz0gNOY

— Yashar (@yashar) February 11, 2017
Its no wonder these townhalls are becoming a problem for the GOP. They have run the show in various states for far too long by helping to spread total bullshit and fake news to keep people in line when it comes to their healthcare.
After the meeting concluded, Bill Akins was called a liar by another senior citizen. You can see the Sheriff's deputy try to get in the middle of it protecting this idiot from the crowd of people who actually know that death panels are a figment of the imagination which was started by Sarah Palin. People are more wiser these days, and they now know these right wingers are full of shit. These days its becoming even more plain that the GOP may suffer major defeats in 2018.
After calamitous "death panel" claims, he takes on the crowd.
"You called me a liar."
"You ARE a liar—own up to it!" pic.twitter.com/7q7BDcFTzP

— Jack Smith IV (@JackSmithIV) February 11, 2017