Well at long last the Walker vs. Kimberlin verdict is in from the Maryland Special Court of Appeals, and what has been described as the dumbest lawyer around has finally been adjudicated as the serial loser he is. The case on appeal was from a long drawn out case brought by Aaron Walker against the State of Maryland and Brett Kimberlin, challenging Aaron Walker's right to harass (in this case) minors on the internet. Today, the Maryland Court of Special Appeals ruled in the favor of the Kimberlin's and the State of Maryland, and against Aaron Walker, Attorney at Law, who had been fighting the Grace's Law statute as unconstitutional.
Walker went as far as to enlist the help of several high profile lawyers who were free speech wing-nuts who filed numerous amicus briefs on his behalf, all of which finally failed. Heck, the court never even addressed the amicus briefs that were filed (which took hundreds of man hours to research and complete), and instead decided to just dispense with the nonsense that wing-nut in chief Aaron Walker filed against Grace's law itself.
Yes, Aaron Walker, Attorney at Law, wanted to be able to harass minor children online if he wanted to, and to hell with any constitutional laws on the books that would stand in his way. After all, he is Aaron Walker, Attorney at Law, and if he wanted to harass children online – be they random children or the children of his enemies, well by george, Aaron Walker should be able to do so. In Walker's twisted thinking, no law on the books should ever stop him or any other right wing-nut from smearing enemies or harassing them or their wives or even their children online or off. After all, Aaron Walker is an Attorney, and by gum he should be able to do whatever the fuck he wants online or off and get away with it.
If the law says he shouldn't do this or that, why he will just challenge that law on constitutionality grounds and move right on ahead and do whatever the fuck he wants. However, in this instance, the Maryland Court of Special Appeals disagreed with him and basically told him to zip it up and shut the fuck up when it comes to minors, as the court agreed that Grace's law will in fact stand and not be overturned because Aaron Walker, the stupidest loser I have ever run across (my opinion shared by many others as well) wanted to get the law overturned so he could be free from the consequences of harassing children online.
The court addressed numerous other issues in the case and pretty much said that Aaron Walker didn't have standing to even bring his appeal. Walker had claimed that the mere threat of being prosecuted for harassing minors online chilled his free speech rights. In one of Walker's earlier briefs he stated that children shouldn't be allowed to tell adults what to do, thus Walker, as an adult, should be able to do whatever he wants to them and claim free speech while doing it. Ludicrous I know, but that is Aaron Walker, Attorney at Law.
In wording made just for Aaron Walker to understand, he is an attorney don't ya know, the Court of Special Appeals stated that fear of future prosecution is not enough. The court stated: The general rule is that equity will not interfere to prevent the enforcement of a criminal statute even though unconstitutional. The mere existence of a criminal statute is not such a threat to present a justiciable controversy.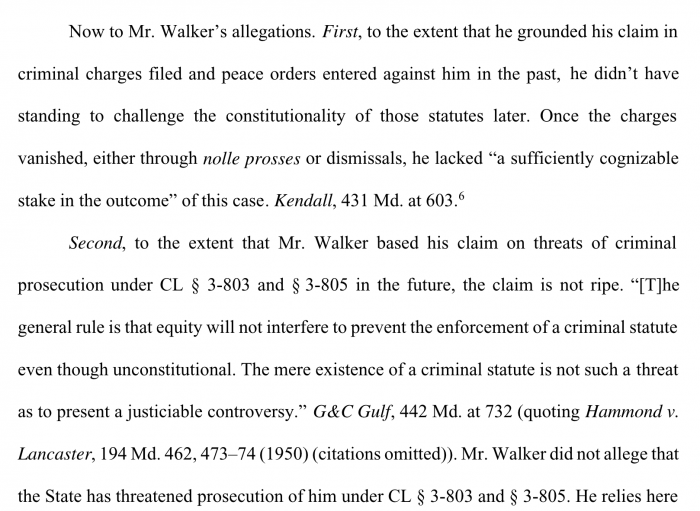 The other issue is that Walker didn't even allege anything in his appeal that would show that the State of Maryland or even the Kimberlin's threatened to prosecute him further. He just left off any proof that any threat existed, hoping the court to take him and his lack of allegations as proof of future threats never made, but because Aaron Walker, Attorney at Law, is a special snowflake, and the court should just read his mind to gather facts and not have anything on paper to substantiate it.
Walker also claimed he should get a new trial because the court and the jury erred in granting the verdict in favor of the Kimberlin's because Walker wasn't allowed to go LINE BY LINE in trying to get his lunatic fringe arguments about how the state of Maryland and the Kimberlin's maliciously prosecuted him for harassment across to the jury. Of course the court struck him down like uncooked meat.
And why on earth did the court deny Walker a new trial? They said it was because line by lining wouldn't have made a difference.

And what did special snowflake Aaron Walker, Attorney at Law, do to lose the case? He forgot to give evidence that he didn't in fact harass anyone which would have forced the burden of proof up on the defendants to refute it. But, because Walker is such an idiot, he just forgot to show those issues at trial and because of it he lost his ass.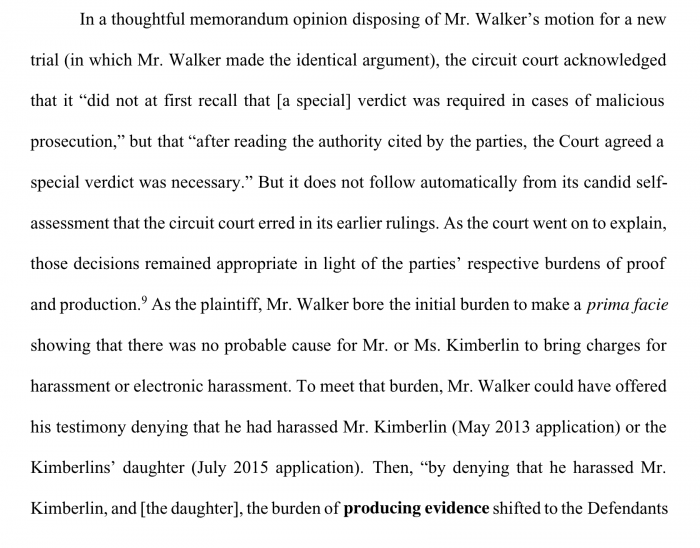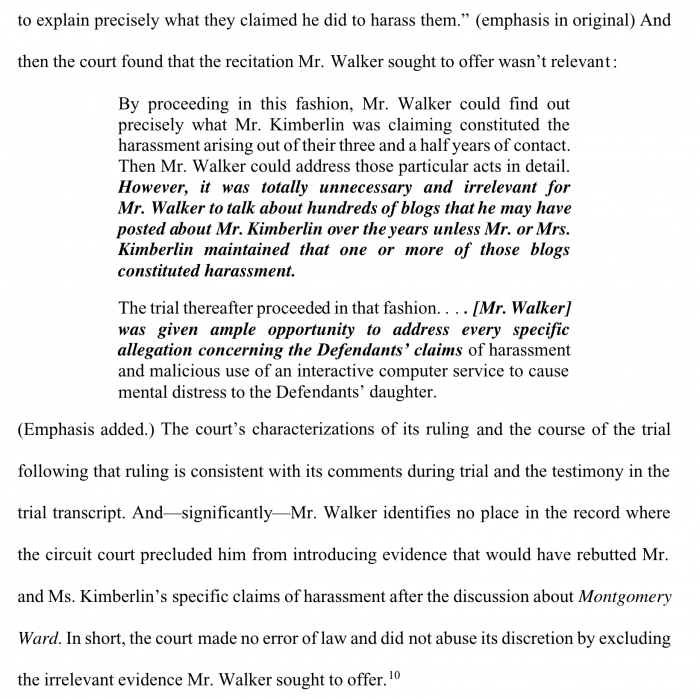 This is what is known as the dog ate my evidence. But Walker goes on further to be-clown himself. The WORDING was wrong, therefore because the words do not match, Walker should get a new trial.

Yes, he forgot to cite any legal authority for the WORDING issue because that stupid is as stupid does argument about wording has never occurred before in court. Wow, such a smarty pants Aaron Walker Attorney at Law is right? The last part of the judgement dealt with the sealing of documents that Walker wanted sealed which dealt with Walker's wife, and stories produced on publications about her. The court found that Walker never served anyone with the sealing request, and that the circuit court erred in sealing said documents from public view. Because you know, Walker just avoids serving people with important papers and just wanted the Judge to protect him without any real legal authority to do so. Well, today the Court of Special Appeals reversed that injustice and ordered the sealed documents about his wife to be unsealed and made a part of the trial record. So there you go, Walker screws the pooch again and shows just how clueless he is in matters related to the law.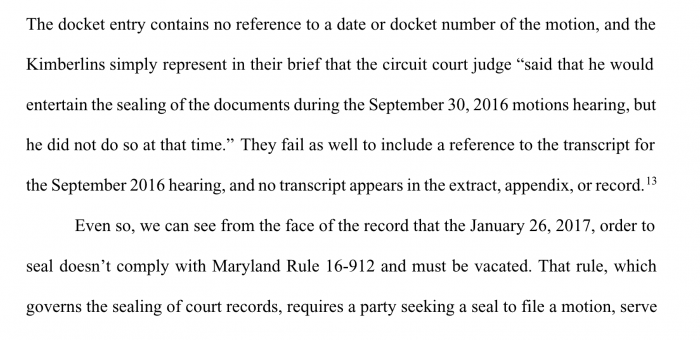 In the end there was a quibble about some sanction fees for 180.00 dollars or so, which the court figured was too minor to even get into the weeds with. So Walker, after spending at least ten thousand dollars or more, and hundreds and hundreds of man hours on this case, and also utilizing other attorneys who sought to overturn laws protecting children from harassment online, obtained 180.00 dollars in a sanction cost that the court decided to just throw out there to get this case off their docket.
In the end Aaron Walker loses another case, and even though this is just one in numerous losses he has taken, the right wingers probably still think he's gods gift to the law. Of course if this case proves anything, it proves that Aaron Walker shouldn't be practicing law at all. But that's my opinion, and its protected speech which Aaron Walker would work hard to deny me, because after all he's a free speech hero dontcha know….
Walker vs Kimberlin Appeal by Breitbart Unmasked on Scribd