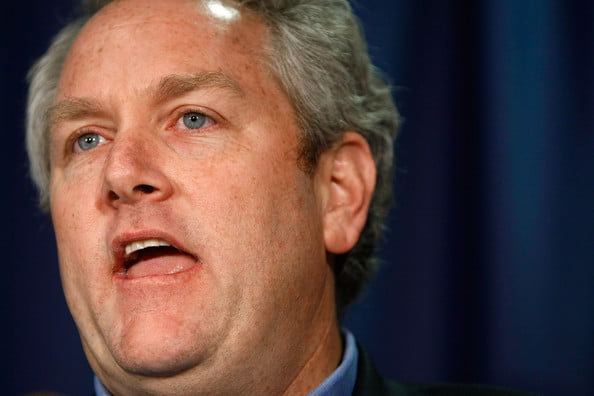 Andrew Breitbart, the conservative blogger and journalist, died suddenly on Thursday morning, according to his website Big Journalism. He was 43.
The site said that Breitbart died of "natural causes" shortly after midnight on Thursday. ABC News confirmed that Breitbart had passed away. Breitbart's attorney also confirmed the news to CNN.
The Associated Press reported that Breitbart was walking near his house in Los Angeles when he collapsed. Someone saw him fall and called 911. Breitbart was taken to UCLA Medical Center, but could not be revived.
"We have lost a husband, a father, a son, a brother, a dear friend, a patriot and a happy warrior," the post said. "Andrew lived boldly, so that we more timid souls would dare to live freely and fully, and fight for the fragile liberty he showed us how to love."
Breitbart came to be well-known for his work with the Drudge Report (he also played an early role with The Huffington Post), and would go on to found the Big Journalism, Big Hollywood and Breitbart.com websites. He was also an author, columnist and ubiquitous commentator in the media.
Groups from all sides of the political spectrum paid tribute to Breitbart. Republican gay rights group GOProud, of which Breitbart was a board member until recently, released a statement saying it was "stunned and saddened," and calling him an "amazing friend and ally."
Liberal media watchdog Media Matters also issued a statement. "We've disagreed more than we've found common ground, but there was never any question of Andrew's passion for and commitment to what he believed," the group said.
————————-
We had major battles with him, and within days we were going head to head against him. Now, well, that battle is probably over, or at the least, changed. What can one say? You can't say anything bad about the dead that is for sure. so, I won't. I will say that Andrew lived with a passion about his beliefs. He may have been a guy we battled, but those were about politics and his beliefs. Personally only those that were close to him would know whether all of that was an act or reality. I can say as far as I believe, much of the polarization in this country came from him in my opinion. He divided and conquered more than he tried to compromise or build bridges for the future. His energy seemed overwhelming. The stress levels I am sure were at peak for him, and maybe because of that the body refused to go any further. Sometimes we push harder than we can realistically deal with physically. Breitbart's stress levels were at an all time high these last months and everyone saw it, and a number of people commented on it. It seemed like everyone was piling on him, hating him as much as the hate he dished out to them. Liberals and the left will claim that living in such a fashion is cause for concern, and one reaps what one sows. Those on the right will mourn a lost leader, and someone who was driven to extremes for them. Either way you look at him he was a formidable opponent. If you did battle with him you knew you had to give it your A game. If you were on his side you knew you had a lot to do just to keep up with him. He seemed to be all over the map and had his fingers in every political pie or battle going on. The other thing you could count on with him was a pitched battle on twitter whenever he felt the need to get into it. And if you were on his list, and sometimes even if you weren't, he would battle it out with you even if you were some small timer with nothing to scare him with or with zero backup follower wise. That was Andrew Breitbart, fighting to the end. Last night he was tweeting to a number of other people who were always ready to battle it out with him, and then suddenly he was gone. Anyway, its amazing to know that prior to the major battle were going to get into with him that he is now passed. So that dynamic has now changed forever. We will never know how it would have come out or where it would have went.
My last tweet from him was "Your That Good"
Maybe those are words to live by. I am sure everyone will analyze the last days, tweets, emails, and so forth looking for meanings to what was said to them by him. I know his last tweet to me will remain on my mind for quite some time.
RIP IN PEACE Andrew…