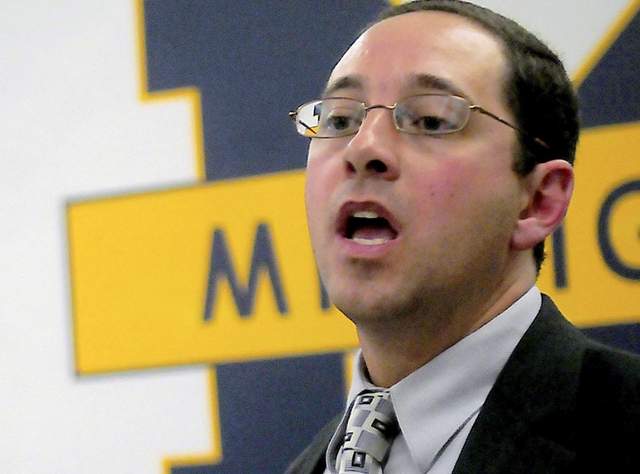 Heads up for John Patrick Frey:
A former Michigan assistant attorney general made a "media spectacle" of himself and the attorney general's office when he started publishing a blog attacking the former University of Michigan student body president for his "radical homosexual agenda," a state Civil Service Commission grievance officer ruled this week.
Andrew Shirvell had appealed his firing from the attorney general's office. Then-Attorney General Mike Cox fired Shirvell on Nov. 8, 2010, finding that Shirvell had lied to his superiors and used state equipment for publishing the blog.
"The pattern of conduct in which he engaged constituted hate speech, physical and mental harassment of citizens of this state and a nexus was established between that conduct and his position as an Assistant Attorney General," the report, which was released Tuesday, said. "(Shirvell) has been determined, in the course of this fact-finding and opinion, to have engaged in harassing conduct of the basest sort.

As was noted above, it is disheartening to see a bright individual with a great deal of potential engage in such conduct.
"The fact that the grievant deliberately made a media spectacle of himself and the department for which he worked without regard for the interests of his employer constitutes conduct unbecoming a state employee."
Shirvell's attorney, Phil Thomas, said the decision is one more example of the state "trampling" on Shirvell's First Amendment rights.
"Although (grievance officer William Hutchens) explicitly found that Mr. Shirvell conducted all of his blogging activities outside of work utilizing his own resources, nonetheless Hutchens justified Mr. Shirvell's firing based on what he called Mr. Shirvell's 'hate speech.' Hutchens' characterization of Mr. Shirvell's blog is based on his own biased opinion and not on the evidence in the record."
Shirvell will appeal the decision, Thomas said.
Shirvell targeted Chris Armstrong in the spring of 2010, shortly after Armstrong became the first openly gay student body president at U-M. Shirvell graduated from U-M.
At the time, Shirvell was working for Cox. He had worked as a deputy campaign manager on Cox's campaign and then started working in the attorney general's office.
In testimony during the grievance hearing, Shirvell testified that he and Cox were close, that he had babysat Cox's kids and had been to Cox's house for dinner "a couple of times."
In May 2007, after passing the bar exam, Shirvell was hired as an assistant attorney general in the appellate division. Shirvell testified that he became Cox's "personal research assistant" for several months.
The first discipline Shirvell faced was in Feb. 2010, when Shirvell sent an e-mail to former state Rep. Leon Drolet, bashing him for alleged homosexual activities.
Shirvell started the blog targeting Armstrong in May 2010, and was counseled at first by the AG's staff to discontinue it. Cox later told his staff to tell Shirvell he had the right to blog, but couldn't do it on state time, or use his title.
Cox testified in the grievance hearing that when he reviewed the blog and an investigation into Shirvell's conduct it "was in stunning detail, an overwhelming case to terminate Mr. Shirvell. It outlined escalating behavior. It outlined behavior separate from the blog that dealt with not only his behavior in the workplace but also his behavior outside the workplace, some of which I would call minimally misdemeanant criminal, meaning stalking… there were a number of incidents where Mr. Shirvell was inviting a civil lawsuit."
Cox also said he thought Shirvell's behavior "constituted a threat to the mission of the agency" after the attorney general's office got more than 22,000 phone calls demanding Shirvell be fired along with letters and e-mails.
Shirvell and Armstrong are currently engaged in civil lawsuits. Each has sued the other.
http://www.freep.com/article/20120327/NEWS06/120327050/andrew-shirvell-firing?odyssey=nav%7Chead