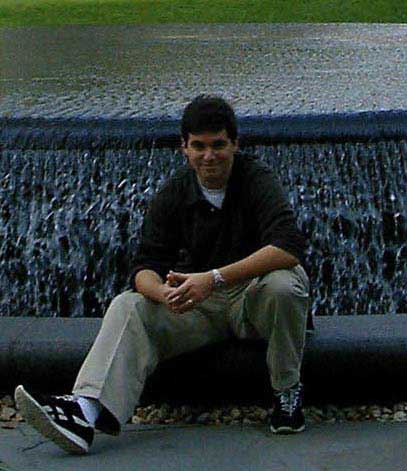 A recent investigation pointed us to Dustin Farahnak as the illustrious @Dust92 account on twitter and the close confidant and Patterico.com member. Dustin, as he is referred to by those that know him, is also a close friend and confidant of Aaron Justin Walker who is @AaronWorthing on Twitter and a variety of other blogs, and also a co-founder of the Everyonedrawmohammed blog that Aaron J. Walker aka Aaron Worthing Attorney at Law started. There is a wealth of information concerning this individual that we have been made privy to, and which will now come out here on BU.
First, Dustin Farahnak works as webmaster of the University of Texas Law website: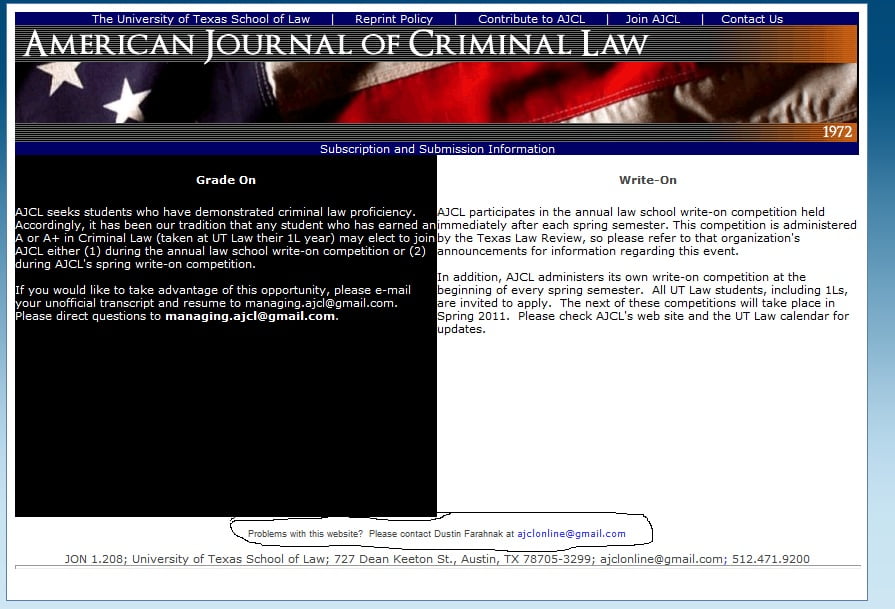 Also Dustin was a supporter of Condoleezza Rice and signed a petition for her to then President Bush to appoint her as National Security Advisor.  He also was a part of a anti-war protest on the "we must go to war" part of the protest when he went to Texas Tech University which is summarized below.
"We say no war! We say no war!" The chanting was loud and crisp, coming from nearly 100 anti-war protestors gathered at Texas Tech's Student Union.
"And by us coming together here we say that even in a small community like Lubbock people are opposing this war," said protest organizer Trevor Smith.
Unswayed by Colin Powell, disgusted by President Bush, the protestors held signs reading, "Drop Bush, Not Bombs." "I don't feel that we have anything that justifies going in with the military force that they want to wage," said Smith.
But before long, the protestors had protestors of their own. "Freedom's not free y'all," said Tech student and Army Reservist Dustin Farahnak. "I say it's worth fighting for," he said. It was a viewpoint quickly pounced upon. "Freedom is worth fighting for!" shouted one of the peace activists. "That's why I will put my guns down and stand for peace. We say no war! We say no war!" he shouted.
While neither side was able to convince the opposition to see things their way, a chant earlier in the day aptly applied to everyone. "This is what democracy looks like! This is what democracy looks like!"
—
He also wrote a post on a legal discussion forum telling people that if they wanted to be a lawyer they must in fact know how to write.
Discussion on Writing
Dustin Farahnak Re: what should i write about
« Reply #7 on: April 29, 2003, 05:37:05 PM »
great thomas, thanks for the commercial, i know of people who used essay edge, paid a fortune, and got nothing in return. here's a tip friends, if you are such a poor writer that you need to pay hundreds for someone to write about you, or you don't feel like you are the most qualified to be your own personal statement author, don't go to law school. being an attorney means having one skill first: the ability to write. it is obvious when you submit a canned resume or essay, and people who are great authors can find better work. do it yourself, and get your school or freinds to look it over…
sorry if i offended anyone, but getting into a law school that meant to screen out non-writers when you can't write is an expensive exercise in mediocrity.
—
Later Dustin was to edit Aaron J. Walker's new book listed on Amazon.com entitled Archangel, A Novel of Alternate, Recent History. I guess writing was important enough for Dustin to edit such a lousy book. He also penned an essay on war entitled "War on War Must Be Fought With Rational Thought" which is summarized below:
Texas Tech U.: COLUMN: War on war must be fought with rational thought.
The America's Intelligence Wire | March 12, 2003
(From University Wire)
Byline: Dustin Farahnak
A great nation like ours is only great if it collectively hesitates to wield its might and is willing to acknowledge its mistakes. On this campus, I've observed arguments against the war with Iraq and have tried to respond rationally. It has proven to be difficult, as I am overwhelmed with hate, threats and spittle. Regime change was instigated by Bill Clinton, who was correct when considering Saddam Hussein to be an imminent threat to the United States in 1998.
I believe his actions slowed Hussein's progress and protected us. A common cry is war should not occur if it is unilateral. Of course, we have dozens of allies in this effort, and wars that have resulted in a greater good. For example, the Civil War, which didn't even receive a congressional declaration of war, was unilateral.
It is wrong to weigh ourselves on the approval of nations that slaughtered millions, such as China, or sent citizens to death camps as did Germany and France. In the early 1930s, many people believed Germany was not an imminent threat and war was unjustified. When a nation is developing its military and has a record of invading its neighbors, the threat is real.
Hussein is responsible for the deaths of 1.5 million people; many are my people. I do not believe my opinion holds more merit just because I belong to the race Hussein has persecuted so well, but I lose sleep wondering about my people's future.
I do not know of any intelligence that conflicts with Secretary of State Gen. Colin Powell's claim that Hussein is building weapons and supporting terrorists, be it al Qaeda or his own army, which has tested weapons on the innocent 281 times. Many respond that Powell has not proven any link in public, but in a republic, we lack the right to sensitive information in order to protect spies. If you believe that Powell is dishonest, then listen to the Iraqis that have fled Iraq. Many of the recent defectors, such as bodyguards and scientists, claim Iraq has horrible weapons. If you do not believe them, you can believe the inspection process. It was charged with confirming that Iraq had already disarmed. It has found they did not. We can either give Hussein an 18th order to disarm, or we can be pro-active.
Many believe war can accomplish nothing, but I dare you to ask a black person if his freedom accomplished nothing or to ask a Jew if halting Hitler accomplished nothing or to tell the free in Russia that the Cold War was fruitless. I contend that freedom is not cheap, as pettily expensive as it will surely be, to create an Iraq that doesn't kill for a wrong vote, being homosexual or resisting the ownership of your husband. Thousands of Iraqis will die, but millions will be freed. What is that worth? Many argue that college money should come before Iraqi freedom. I contend that even if we had some elite right to demand the masses pay for our education, it would still be less important than starting change in the Middle East. In my opinion, the reason for Sept. 11 is people are raised in a society that is taught to hate Jews and the United States. Iraq is not the only place that generates hate, nor is it the worst place.
I contend it is the easiest place to start because a cease-fire agreement has been broken. When free, Iraq will prosper enormously, pressuring Iranians to match such prosperity. Christians generally do not run around burning witches anymore, and the Muslims who haven't become gentle yet, can learn as well. It must start somewhere. Arabs are capable of having a real republic.A common argument is war is simply the easiest way for Bush to steal oil. However, it would be easier to lift the trade sanctions and let oil flow freely. Currently, it is the French that benefit from Iraqi oil and the billions owed for the weapons used to persecute Iraqis. Also, the oil from Iraq is sold to benefit only Hussein's palaces and weapons so the Iraqis have no oil to lose. The oil in Iraq should be used by Iraqis to finance a real Republic. Remember the Marshall plan and how we treat defeated enemies.
I do not think the Iraqi people would live in peace if we totally ignored Hussein. The only chance for peace is if we remove Arab Socialism and its dictators. So give peace a chance.
The Iraqis who aren't at gunpoint are anti-Saddam. If protesting is unpatriotic, I'm no patriot, but I will never forget how undemocratic a minority of Tech protestors were.
After claiming that freedom is not worth dying for and chanting: "This is what democracy looks like," I voiced a dissenting opinion, and a few spit at me, and two cursed and threatened me to leave or shut up. As I tried to say, "The biggest killer of Arabs in the world is … (the leader of the protest interjected … "The United States of America!") When I corrected him by explaining it was Saddam Hussein, he didn't even respond, but ran off to talk to a camera.
He blindly threw in "America" when he heard something bad, and I guess that's pretty cute. I don't know that guy's name, but I'd like to tell him that many in my family suffers under totalitarian government, and thanks to him, a few in America.
Don't be like that guy. If it feels good to hate war, define peace.
—
He was also married for a time to Jeannie L. Pierce
Groom: DUSTIN R FARAHNAK
Age: 20
Born: 1979 or 1980
Bride: JEANNIE L PIERCE
Age: 20
Born: 1979 or 1980
Marriage date: June 3, 2000
County where license purchased: GREGG COUNTY, TEXAS
Index number: 076265
Later he was divorced. He was also in the Army Reserves, and at one time promoted to SGT. His father was a public works director for the City of Rosenberg and also for Southlake Texas. He has lived in Dallas Texas, Roanoke Texas, and now resides outside of Austin Texas in the City of Leander.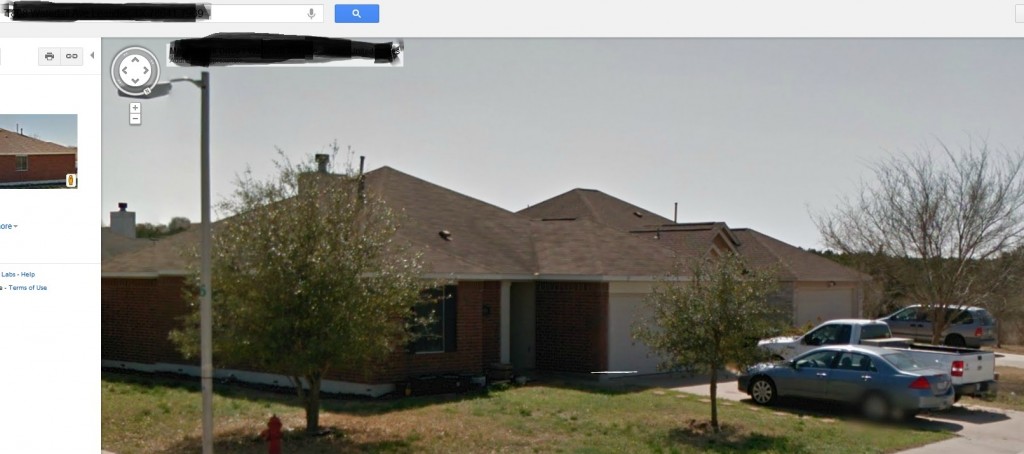 What I find strange is that this promoter of John Patrick Frey of Patterico.com and also menace to the left wing is also of Arab decent, yet has an Anti-Muslim slant to his writings and activities. And for a bit I have had questions as to why he would be involved in such issues coming from such a heritage. But stranger things have happened I guess. Today he is about 32 years old and a complete mystery online other than his writings. Well no more mystery I guess for him. There wasn't much more online about him under his real name but a few left over tidbits here and there which I am not going to the trouble of posting, as this should suffice for now.