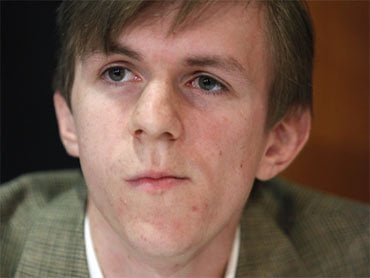 Breaking: James O'Keefe Injunction over his lost emails has been denied. Nadia Naffe has been ordered to turn over emails to those who have subpoenaed them, one of which is the New Hampshire Attorney Generals Office who faxed over a request and subpoena 15 minutes prior to the commencement of the court hearing over the injunction this morning. The other subpoena is in the matter of Brett Kimberlin, who also has subpoenaed the emails that Nadia Naffe has in her possession. The judge ordered that the emails are not to be destroyed, but to be handed over to those who have requested them via court process.

UPDATE:
James O'Keefe tweeted this afternoon an outright lie about what the court ruled on this morning. First, it was a temporary restraining order that was in effect, not a permanent restraining order. And then today May 16th 2012 the judge ruled that the O'Keefe (who didn't even show up for court because he feared arrest or having a subpoena served on him) did NOT meet the third element for obtainment of a further more permanent injunction, and that third element was a successful outcome of the case. Thus, the Judge in the case overturned the Temporary Injunction against Miss Naffe and moved that she could in effect comply with the several subpoenas issued to Miss Naffe regarding 7 years of O'Keefe's emails that Miss Naffe was in possession of. However this late afternoon Mr. O'Keefe tweeted this OBVIOUS lie: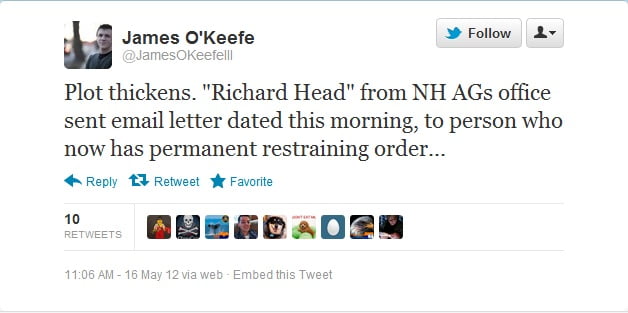 I thought Mr. O'Keefe was all about truth? I thought getting the TRUTH was important to him? I thought that all these videos he has produced are supposed to show the TRUTH? Yet, here in this tweet he blatantly lies about what transpired this morning in court to his followers who are oblivious to his blatant lying. This is the real O'Keefe, this is the real deal here when dealing with anything O'Keefe produces. You will NOT get the truth. What you will get however is a manufactured lie, a lie spun to make it and him look honest and real. And that folks is the lie that O'Keefe will end up having stick to him. Permanent Restraining Order my left foot. Temporary Restraining Order LIFTED at 9:30 am EST May 16th 2012. Judge Carroll's court in New Jersey, USA.